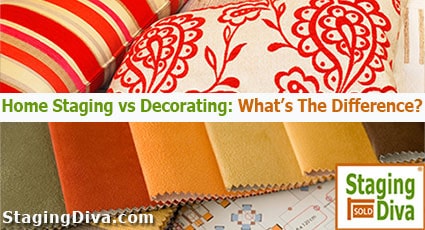 Home staging and decorating (or interior redesign as it's also called) are very similar. Both services are concerned with creating a visually appealing home, which is why home stagers are often hired for decorating projects. You are either "decorating to sell" or "decorating to live."

In home staging, we are decorating a property for the real estate market
Our home staging recommendations are driven by what will make the home most appealing to the likely target buyer. Our goal is a faster and higher-dollar sale for the home owner.
Good home staging is very focussed on the likely target buyer as I wrote about in a related article.
Bad home staging tries to appeal to "everyone." You've seen bad home staging advice like: paint everything white or beige, remove all personal items, avoid any surprises.
This frequently results in a bland and boring environment.  It won't offend anyone, but doesn't get them terribly excited (or motivated to buy) either. In fact, if you toured 6 badly staged homes in a day that followed this advice, you probably wouldn't remember any of them. Guess what, neither will potential buyers!
Home staging should include a measure of style and flair.
It must delight potential buyers and leave them with something to remember at the end of their day of house hunting. When you have a clear picture of the target buyer you are decorating for as a home stager, this is much easier to achieve.
Your creative vision is key
Since my home staging clients trust me to decorate their home to sell, and they know they don't have to live with my recommendations, they really get out of the way and let me do what I think is best. The gives me more creative satisfaction then I ever imagined before getting into home staging. It also appeals to my perfectionist tendencies and fondness for being in control 🙂
In a redesign project, we decorate for the current home owner
Our decorating or redesign recommendations are driven by what's needed to make the home most appealing and comfortable for the people living there. Our goal is creating that ideal environment that is their refuge from the outside world, and/or their place to entertain. Depending on what they're looking for.
We focus on the needs of the various family members, and how they'll actually live in the home day-to-day. Or at least we should!
I've seen designer-done homes that look completely impractical to live in. Equally bad, they so strongly bear the style of the particular designer, I wonder if the home owner had any say in the end result. I also wonder if they'll be comfortable day-to-day, or feel like they're living in a magazine spread (or someone else's home).
When I'm doing a redesign consultation, I spend almost as much time getting to know the owner as I do the house. I listen to what they're telling me, but also what they're not saying. Some people don't really know what they want, and it's up to you to draw it out of them.
Your creative vision may be significantly changed
There is a lot of creative satisfaction in interior redesign or decorating too, but it's tempered by the need to mix in your client's vision with your own.
Remember that TV show Frasier, starring Kelsey Grammer? He was a totally uptight snob and his father (who shared the apartment) was a beer drinking, plaid-wearing unsophisticated guy who wouldn't know Eames from Le Corbusier. The contrast between the design sensibilities of both characters was hilarious.
You might create the perfect living room for your decorating client, and then they drag in "Dad's favorite chair," that goes with nothing. I have plenty of projects I've never photographed for my portfolio for this very reason.
Personally, I find this creatively frustrating, but it's also my client's house. They have to live there comfortably in the years ahead. It's my job as a redesigner or decorator to help make that happen.
This is one of the many reasons I believe a home staging business beats a decorating business. Both use a similar skill set, and most home stagers can do both.
In fact, due to the seasonality of home staging, interior redesign/decorating is the perfect way to fill in the gaps between home staging projects.