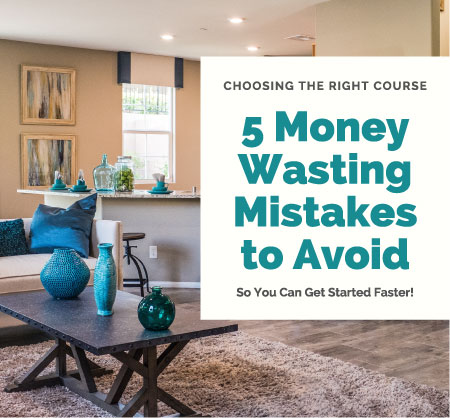 Creative types entering the home staging industry often get sucked into wasting thousands of dollars on training by making these 5 common mistakes.
Here's what you want to watch out for:
1. Taking home staging courses from someone who has never been a successful home stager.
This is especially common. Many companies claiming to offer home staging credentials are lead by people who have never earned a living as home stagers.
If you don't think that matters, consider how likely they are to teach you things that work in the real world.
It's easy to avoid this mistake. All you have to do is Google the trainer's names—and company/brand names— you're considering.
You can also check them out on LinkedIn. Take a look at their employment history and education. Pay special attention to the dates.
2. Chasing after home staging credentials because you think these will give you credibility.
This is a common mistake when you're entering a new field. It's normal to worry that potential clients won't take you seriously.
Contrary to misleading claims being made in this industry, there is no such thing as an official home staging credential.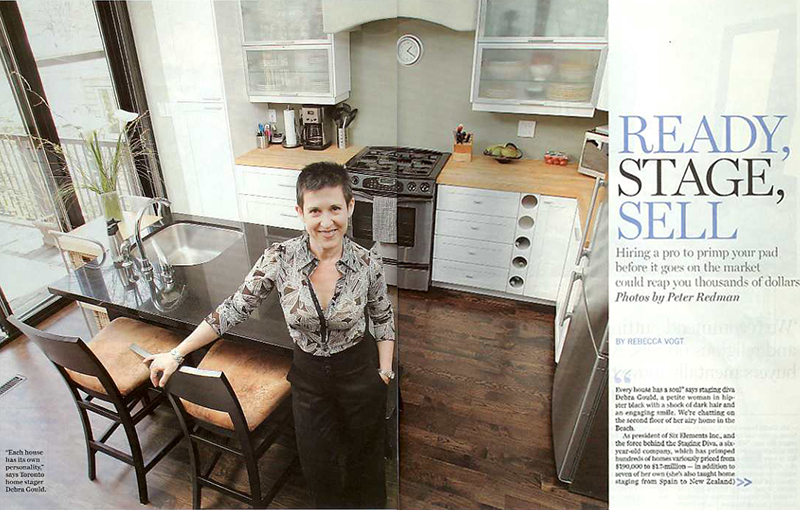 If you are "certified" or "accredited", it just means you took a particular course.
This is a completely unregulated industry and anyone can offer "certified courses" because there is no law or regulation to stop them.
When I started teaching home staging courses in 2005, I deliberately chose to avoid calling Staging Diva Graduates "Certified," because I find this misleading to potential students as well as the general public.
Remember this was my choice!
It's doesn't mean you're any less "Accredited" as a Staging Diva Graduate than anyone else from another program. I just don't play this marketing game for the reasons mentioned.
You can choose to call yourself "certified" no matter what program you take, since there's not really any such thing.
The second thing to remember is that you won't get automatic credibility if you say you're a "Certified Stager."
Even in legitimately regulated fields (medicine, accounting, law), I'm sure you've seen plenty of people you wouldn't trust— no matter how many certificates or degrees they have on their wall.
And, did you know that in many cities home inspectors aren't even regulated?
If you don't need a special credential to call yourself a home inspector (where a mistake could lead to someone buying a property with hundreds of thousands of dollars of hidden defects), it's unlikely there will be any great rush on the part of governments to regulate home staging.
How to gain credibility when there's no such thing as "certification"
You get credibility from:
The quality of your work
How you treat your customers
Your knowledge and contributions to your industry
Marketing efforts and any media attention you receive
The right home staging course will address all of these factors. They'll teach you what you need to know to present yourself in a professional way.
Make sure you find out exactly what you'll be learning in a specific program. Don't let claims of  getting a "certification" be your guide.
Take a proper look at the description of each course, get a free sample, talk to your trainer. And find out whether there's a money-back guarantee. Not everyone offers this.
3. Assuming that because a home staging course is endorsed by an association that it's more official.
There are many associations claiming to be the voice of the home staging industry. Some provide useful information to their members.
If you're assuming home staging associations are completely independent and objective, dig a little to see if that's true.
Most are owned by people who also own home staging schools or offer training themselves, or their boards of directors are made up of trainers.
So, naturally they'll endorse their own programs.
Others charge a fee to home staging training companies to be endorsed by them. So if they don't endorse a particular program it may only mean that the training company didn't choose to "apply" to be recognized by them.
If an association is not completely independent, you can't assume because a home staging course is recognized by them that it automatically means it's good training.
If might very well be a great program. You just need to look closer to make sure it meets your needs.
4. Assuming that all testimonials you read are legitimate.
"The Staging Diva Training Program transformed my way of thinking about the business of home staging. I was formerly trained by two other 3-day staging programs. In fact, I was even a teacher for one of them!

But the staging pricing model was wrong in those other programs. It kept me stuck, trudging up a difficult hill wondering why I wasn't making real money as a home stager.

It wasn't until Debra Gould explained home staging consulting and billing correctly, that I was able to shift into higher home staging income levels."

— Jill Gargus-Turgeon (AB)*

Simply Irresistible Interiors Inc.
You'll never know with 100% certainty unless you contact the person giving the
rave review
personally.
If the website running the testimonial uses incomplete names or doesn't provide a photo and location, consider this a red flag.
There should be enough information provided to show that there's a real person behind the words, and to make it possible for you to Google them if you want to.
Really read through these testimonials to see what kind of things they talk about. You'll gain some insight into the types of people that take various programs — what they're looking for and why.
If a review only says is "great program" that might mean it was great for them. It doesn't mean it's great for you. A proper review should say why they feel the way they do.
Different students have different needs. Be mindful of what's important to you when evaluating any home staging course. Don't accept hype like "#1 Course" without asking yourself, "Says who?"
5. Believing that the presence of media logos on someone's website means the person is a recognized expert in the home staging field.
Sadly, anyone can put logos on their website, whether or not they've actually appeared in that magazine, newspaper or on a particular TV show.
So don't take logos or claims of media attention at face value.
Look for actual TV clips, visuals of the actual pages they were on, or story excerpts that appear credible. Sometimes you'll even find links to the story on the media company's website. I provide these wherever possible when I mention a story or any Staging Diva media appearance.
Conclusion/Next Steps
Don't take everything at face value. Evaluate the information.
There are great home staging courses for people with different needs. When you have a better picture of what you're looking for and why you want to take a course, then you're in a better position to evaluate whether you've found the right one.
Learn What Makes Staging Diva Courses Unique Here
You'll also find this comprehensive home staging FAQ for aspiring home stagers helpful.