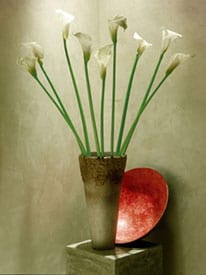 Home staging is all about decorating a home to sell quickly and for more money. In fact, home stagers have been called the "dream weavers of real estate." We achieve this by showcasing the property's best features, especially those that will appeal to the likely target buyer of that particular real estate property.
For a home stager to be most effective, our first step should be forming a clear mental picture of who this home will appeal to, and why.
Otherwise, a home stager risks trying to appeal to "everyone" or "anyone." This results in bland and boring home staging that won't offend, but also won't get anyone excited to purchase the property.
One person's "dream house" could be a nightmare for someone else. Here's how to inspire your home staging project with a clear mental picture of the home's likely target buyer:
1. Consider the neighborhood.
What's the profile of this neighborhood? Is it young families, retired couples, young singles, gay men?
Is there a particular ethnic or religious group who lives in that neighborhood?
2. Consider the property you are staging to sell.
Factors that influence the target buyer are:
Price point for that neighborhood and for that particular property.
Whether it's close to public transit.
Whether it's an area known for great schools (high school, primary school, college?).
Number of bedrooms and bathrooms.
Square footage.
Whether it's an income-producing property (basement rental apartment, or 3 kitchens on different floors, etc.).
Whether it has a family room, playroom, workshop.
Whether architectural features make it an "adult house" (eg: modern open stairways with no risers or railings and nowhere to put up a baby gate)
Whether it's close to nightclubs, restaurants or food shopping.
Whether it's close to parks, bike paths, playgrounds, etc.
Whether it's a quiet cul-de-sac or a busy street, or something in between.
Whether there is a big garden to take care of, a yard with lots of grass to run around in, etc.
The age of the home or whether it's been newly renovated and in what style.
3. Start with buyer demographics.
Is it likely a single person or a couple who would buy this property? How old are the people who would likely buy this home? Do they have kids? How many kids, and what age range are they in?
4. Think about target buyer's stage in life.
Retired empty nesters are going to be drawn to a very different environment than a young, newly married couple.
Someone with time for hobbies may be looking for different features.
To help refine your mental picture, and inspire your home staging, think about what type of careers they might have, whether they're likely to throw dinner parties and/or huge BBQ parties.
Would there be a Mom looking for a quiet sunny corner to read a book, or a Dad hoping for a "man cave"?
5. Find home staging ideas that will make an emotional connection.
Home buyers start with a logical list of criteria for the house they're hunting for, but the home they actually buy is heavily influenced by emotions. That's why home staging works so well.
What subtle (or not so subtle) things can you do to pull on the heart strings of this target buyer?
How can you help them make an emotional connection with this home so that they'll be motivated to make an offer to purchase?
6. Make your home staging recommendations.
Once you have a clearer picture of who would likely want to buy this home, then you can make your home staging recommendations.
You'll have a better idea whether you should show that extra bedroom as a nursery, guest room or home office. You'll know whether the basement should look like a media room, play area, or both.
As for style choices, I've always felt walking through a home that the house speaks to me about how it needs to be staged. I thought that might sound "crazy" until I wrote a story about it and got feedback from other home stagers.
Home Stagers, what do you think?
I'd love to know your thoughts on this approach. Please share in the comment section whether you use this process. Is there anything you would add to my list?
Debra Gould, The Staging Diva®
President, Six Elements Home Staging and Voice of Possibility Group Inc.
Author of the Staging Diva Ultimate Design Guide: Home Staging Tips, Tricks and Floor Plans, Debra Gould has staged hundreds of millions of dollars of real estate for her clients. She developed the Staging Diva Training Program to teach others how to earn a living from their own decorating talents.