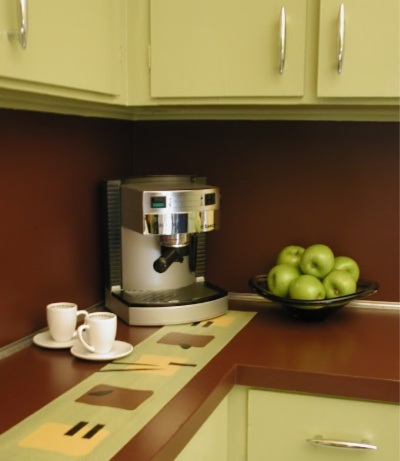 Many women approaching their 40s write to me wondering whether they should go to Interior Design School.
It's an issue I struggled with myself many times over a 20 year period.
I interviewed a number of interior design schools at various points in my past career but never followed through on actually applying.
I already had a BA, an MBA and years of experience.
The thought of being a full time student for 2 to 4 years, with a bunch of kids 20 years younger than myself was not that appealing.
And the cost was huge considering the significant income I'd be giving up over that period.
Now that I've staged hundreds of homes I'm so happy I went with my instincts and stayed out of Interior Design School!
You wouldn't believe the number of interior design graduates that have approached me during the past 15 years to hire them for Six Elements, my home staging company! Most seem to be working as sales people in furniture stores and looking for a way out.
One interior designer called me this week who was working on 100% commission!
Imagine working retail hours for a furniture store after studying interior design for 4 years of college, and not even earning a salary!
I was shocked.
If you're going to be on 100% commission, you should absolutely be in your own business. At least then all the sales come to you instead of a hefty percentage going to your employer.
Here's what I've learned being a Professional Stager instead of being an "interior designer" over the past four years. Being a home stager:
• You get lots more projects to work on because they are shorter term in nature. So, lots more variety.
• Your staging clients give you creative control because they know they don't really have to live with what you do to their homes. So, you get to be creative and make the decisions.
• You get interior redesign and color projects because your staging clients love what you do with the house they're selling and ask you to work on the one they're moving into.
• You get to work with the kinds of people who wouldn't normally hire an interior designer or decorator, in other words a much larger target market.
The other important thing I learned, is that I would have hated being an interior designer!
It's really frustrating doing a beautiful room only to see your client later clutter it up with additions that clash with everything you've done. Or, having to sit there for hours while they can't decide which fabric they want to pick.
I love having the creative control I get from staging houses.
I get to execute my vision because clients realize I'm decorating their house to sell, not for them to live in it. I know there is no way I could have done hundreds of homes in so short a period with an interior design degree fresh out of school.
Granted because I've never gone through an Interior Design program, (or ever taken an interior design or color course!), I can't tell you if a chair is Louis the XVI, or draw plans to build an addition off the back of a house, but I don't miss having those skills!
The kind of people that hire me (upper middle class, usually professionals) don't really care!
They hire me because they know I'm an expert in decorating a house to sell because they've visited my websites, they've heard about me from their neighbors or real estate agents, or they've read about Six Elements or Staging Diva in the media.
For the things I don't know, I'd happily refer them to a trained interior designer!
I know they have many skills that I don't. But like I said, I learned I wouldn't want to be an interior designer so that's OK by me. And, it was a relief to finally let go of all the wondering about it!
In case you're wondering about the photo at the top of this article, it's from a kitchen I decorated that was featured in Woman's Day Walls Windows and Floors. Not only did they do a 6 page spread on the house, I was the photo stylist.
Never once did the magazine ask for my "design" or "stylist" credentials. They did the spread and hired me because of the strength of my home staging portfolio of before and after photos.