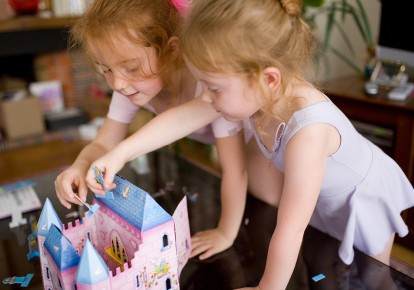 I've been addicted to decorating since I was a kid, and I'm curious if you'll see a bit of yourself in my story.
I remember insisting that my room be painted a deep turquoise, and my rattan headboard white, because I could totally picture how one would stand out against the other and compliment the pale creamy-yellow duvet.
At the risk of revealing my age, I'll admit it was the 1960s. Even now I can see that decorating scheme in my mind's eye, and it still looks cool.
As a teen, I painted murals on my bedroom wall and also the high school cafeteria.
In my first marketing coup and "payment" for my creative talent, I managed to convince the vice principal of the high school to exempt me from swimming as reward for decorating the cafeteria.
Hey if you don't ask, you never know!
Then came adulthood and a series of rental apartments.
Finding the perfect bedding, shower curtain and towels were always highest on my list of priorities since I had almost no budget for furniture and painting the actual walls was against my rental agreements.
When I finally became a homeowner with my first real estate purchase at the age of 29, I was in heaven!
There was still no real decorating budget for my tiny condo, especially since I had just quit my 6-figure job as a Marketing Director to become an entrepreneur.
No matter; with a few cans of paint and the right accessories, I could create magic.
I even managed to get about 12 years of use out of the ugliest sofa you've ever seen by putting a piece of plywood under the sagging cushions and covering it with a huge canvas painter's drop cloth.
Sounds like something a home stager would do, right? I hadn't even heard the term at that point.
About 7 years later, I had created as many different looks as I could think of for my condo and it was time to move so I could get my next decorating fix.
Condos and houses seem to speak to me and I knew I had reinvented the same space as many times as I could.
Within the next 4 years, I bought, decorated, and sold 5 more real estate properties, living in them all along the way! It was not until the last one that I realized I was born to be a home stager, and launched my home staging and redesign company Six Elements Inc. with no more information than:
Knowing I was talented at quick makeovers and decorating on a shoestring
Knowing I could decorate a home to appeal to buyers
Wanting to keep decorating without having to keep moving all the time
Believing I could use my marketing talents to market myself and my home staging services
Believing I could make relatively easy money selling my knowledge and expertise to home sellers who wanted to sell their homes fast and for top dollar
Many Staging Diva Students and Graduates have told me similar stories of knowing they were born to decorate.
Some rarely played with dolls because they were too busy decorating and redecorating their doll houses. When I heard that, visions of cut up Kleenex boxes and creative uses of empty toilet paper rolls came flooding back to me as I remembered the complex floor plans and "furniture" arrangements I'd lay out on our basement floor!
Even then I recall thinking real Barbie® houses and furniture were kind of lame because there was no creativity to it (or at least that's what I told myself because there was no way I was getting the real thing!).
The funny thing is, ever since I started my home staging business in 2002, I haven't had the constant urge to move anymore! I'm convinced it's because I can get my decorating fix working on my clients' homes.
And it's actually quite creative having to make something beautiful out of furniture I might never have picked on my own.
Did you start decorating when you were a kid? What's your first memory of decorating or realizing it was something you just "had" to do? How do you get your decorating fix now; are you a home stager? Please share your story by commenting below!

Debra Gould, The Staging Diva®
President, Voice of Possibility Group Inc.
With an MBA in marketing and hundreds of home staging clients, internationally recognized home staging expert Debra Gould, The Staging Diva, is uniquely qualified to train others how to start and grow a profitable home staging business. Her Home Staging Business Training Program has over 30,000 students in 23 countries.