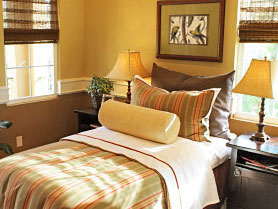 If you make your living as an interior designer or decorator the current economy has got to be hurting your business. When the economy is slow, many people who might otherwise hire an interior designer or decorator are forced to move such a 'non-essential' service to the bottom of their priority list. If you haven't felt the pinch yet, brace yourself as your business could take a drastic nose-dive during an economic recession.
Nobody really needs interior design services, especially in have-not times.
Maybe you're one of the many trained interior decorators who have ended up working in retail for a 100% commission. If the economy gets worse and you're working purely on commission, where does that leave you? Even in good times, if you work for 100% commission you might as well be your own boss and have the freedom to market yourself to new clients rather than being tied to any one store.
When I decided to take the reigns of my life back and do something that would allow me to profit from my creativity, I considered a career in interior design. I struggled with that option countless times across a 20 year period when I was unsatisfied in my work. I researched, and even interviewed, many interior design schools in my "former life" but for some reason I never took the step to enroll. I decided with my BA, MBA and a couple decades of experience in business, being in a classroom for two to four years with kids 20 years my junior was not something I wanted to do.
Never mind tuition costs and the tremendous loss of income while you're a student.
Then who knows how many years of working experience as a designer or decorator would be needed after graduation to really start earning money. I wanted to unleash my creativity and love for decorating, but I definitely needed to start making money as soon as possible. So, I started my own home staging company.
As soon as my business was launched, the money was coming in. Within my second year as a home stager I was making up to $10,000 per month. Compare that to the median annual salary of $36,150 a year for an Interior Designer (even one with 7 years of experience) according to Salary.com.
If you're an interior designer or decorator and you aren't making enough money, consider adding Home Staging to your service mix or switching to a more profitable career as a Home Stager altogether.
Part two of this story: why home staging is more profitable than decorating, especially in tough economic times.

Debra Gould, The Staging Diva®
President, Six Elements Inc. Home Staging
Entrepreneur and Home Staging expert Debra Gould, The Staging Diva, knows how to make money as a home stager. She has helped many long time Interior Designers make the switch into a more profitable house staging business. Discover her secrets to business success in the Staging Diva Home Staging Business Training Program.
[tags] interior design, decorating, home staging, home stager, house staging, house stager, house-staging, home staging for decorating business, Staging Diva, Debra Gould [/tags]