I receive several emails and phone calls a day asking how to compare home staging courses.
It can definitely feel overwhelming if you don't know what to look out for.
For example, is one home staging certification better than another? Does it matter who you learn from? What support will you get during, and after, the program?
Here's what I know is different based on hundreds of emails from my students who have previously taken other programs.
One key difference is my focus on how to take your talent and quickly turn it into a profitable staging business. And how to keep it easy to run.
"The Staging Diva Training Program transformed my way of thinking about the business of home staging. I was formerly trained by two other 3-day staging programs. In fact, I was even a teacher for one of them!

But the staging pricing model was wrong in those other programs. It kept me stuck, trudging up a difficult hill wondering why I wasn't making real money as a home stager.

It wasn't until Debra Gould explained home staging consulting and billing correctly, that I was able to shift into higher home staging income levels."

— Jill Gargus-Turgeon (AB)*

Simply Irresistible Interiors Inc.
Many programs spend a lot of time on "where to put the couch" and understanding color wheels. You can learn about color wheels for free on a myriad of websites, just Google it.
Besides, I don't believe you need to understand primary, secondary and tertiary colors to flip through a fan deck and pick a nice neutral for your client's walls!
I don't even talk about color wheels in the Ultimate Color Guide for Home Stagers!
Instead I save you time by explaining how to: compare color swatches, approach color with your clients and I give you my top 90 paint colors that work in any home.
My feeling is that you shouldn't consider becoming a home stager if you have zero decorating talent.
You have an eye for it or you don't!
That said, I've written a downloadable guide on Design for Home Staging if you need a confidence boost in this area.
Staging Diva home staging courses were developed with the assumption that you have that raw talent.
If you're worried that you don't have "enough" decorating talent, take my free quiz here!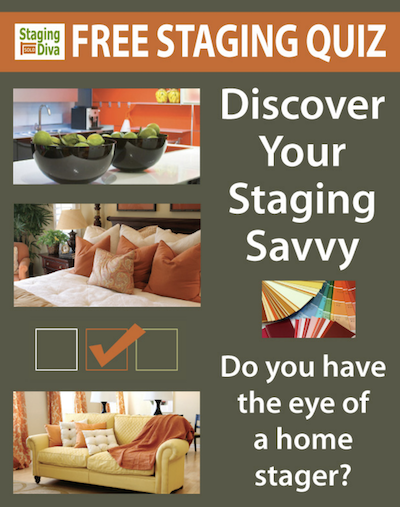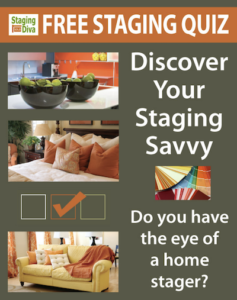 It's important to know that you only need to know more than your client to be able to provide value.
If their house looks amazing, they won't contact you in the first place. So don't worry about not knowing what to recommend when you get there.
You'll be amazed at how bad most homes look because the owners never "got around to decorating," or simply don't have a clue.
If you have the eye of a home stager, you'll  have tons of ideas that they never thought of. When you look at the real life photos in my quiz, you'll see how most people live.
It's easy to under value our natural talent and think we're not good enough.
I teach you how to get over that in the Staging Diva Program.
Plus, I solve the biggest obstacle to your success.  Not knowing how to make money from your talent.
Compare Home Staging Courses – How Long Does It Take?
You can get through my entire program in about 12 hours (instead of losing weeks and months in something that's more complicated than it needs to be).
Staging Diva courses give you everything from how to set up your company and templates for any forms you'll need, to how to deal with clients and never have to chase payment.
And, I'm available to answer your questions inside the Staging Diva Network. All students get a bonus membership to this handy resource! I don't ever want you to feel you're on your own!
In the program, you'll learn:
How to do a home staging consultation in both occupied and vacant homes
How to manage a project from start to finish
What changes you should almost always recommend
How to properly price your services and so much more
With the Staging Diva home staging courses, you won't have the expense and inconvenience of travel.
While many programs suddenly switched to an online model during the pandemic, Staging Diva has been offering "distance learning" since 2005. I know how to effectively teach and support you before, during and after the program.
That's how I've always done it.
Debra Gould's business model is so easy to follow. With one home staging project, I earned more than I'd made my whole first year in staging before taking the Staging Diva Program!

The course recordings are the holy grail of staging business strategies and techniques. Each time I re-listen, I hear something new.

I'm confident about the business now, and have such peace of mind knowing that I have a powerhouse like the Staging Diva in my corner.

It's a blessing to be a part of this program and I'm so excited for the future.

— Julie Williams Johnson (GA)*

Investors Staging, LLC
As always, you save time and money by learning from the comfort of your own home. Whether it's convenient for you to study at night, or spend a weekend. Or spread the 12 hours of material out over several weeks, it's entirely up to you.
There's no need to put the rest of your life on hold while you spend long weeks or months wading through dense materials. I keep it all simple and straight to the point.
You can even listen to the home staging courses while you're commuting, walking the dog, or cooking dinner. And unlike other programs, you never lose access to the Staging Diva course materials. They're yours to keep forever.
In the program, you'll hear me explain real world examples of what you'll face as a home stager. What to say to a real estate agent or a nervous client, and how to make sure you get paid for your services.
The Staging Diva Program teaches you how to effectively promote your home staging services.
I don't list random information you'd find in any marketing "textbook" or browsing online. That's what happens when a course is taught by someone who has never been a home stager or who doesn't have real marketing expertise.
There are many people teaching home staging even though they've never earned a living as home stagers.
Look your teacher up on LinkedIn to see if there's any evidence that they've had a home staging business. Also Google their name to see their track record.
When you sign up for Staging Diva Training, you're going to learn directly from me. I've been marketing since the 1980s and I'm even a published author on the topic.
I have a Master's degree in Marketing, I've been supporting myself and my family from a home office since 1989. More importantly, I'm a home stager who has grown a successful staging business.
Forget About Chasing Real Estate Agents
I'm going to tell you the marketing information you need to know as a self-employed person. What's going to work and what's a waste of time.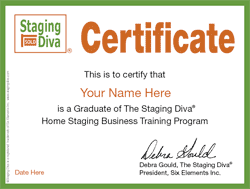 For example, most home staging courses will teach you to cold call real estate agents. I'll teach you how the bigger home staging profits come from home owners and how to get them coming to you for help.
I'll steer you away from expensive advertising and other techniques that less experienced marketers would recommend because they just don't know any better.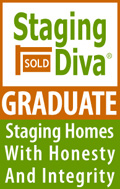 Once you complete the 5 home staging courses that make up the Staging Diva Program, you can say you're a Graduate and I'll give you a certificate and artwork to put on your marketing materials or website to back that up.
You will NOT have to pay an ongoing fee to Staging Diva to say you are a Staging Diva Graduate. Annual fees are a common practice with other schools, that's not how I do business.
Ultimately, the difference between Staging Diva and other programs out there is that it's based on the real-world experiences of someone who has personally done this.
And it really is about how to turn a talent you love into a money-making business.
Keep Your Costs Down to Maximize Profits
"The Staging Diva Program is a great investment. I haven't found any other course that offers such a step-by-step action plan to get your staging business started. Plus, there are a ton of real-life examples to learn from.

Debra offers a lot of support, even after you finish the courses. She's not just a world-renowned home stager, she's also a great mentor!"

— Jonah Branco (ON)*

ARC Interiors Co.
Unlike other courses, I'll teach you how to be a home stager without buying any of your own furniture or accessories. I know it works because I've done it and so have thousands of Staging Diva Grads.
None of them had to go into debt to become home stagers. And, when you don't have a warehouse full of stuff, your business is easy to move. That's why my business model appeals to so many military spouses too.
If you want a decorating hobby and you have no real intention of making money at it, don't take my program because it would be a waste for you.
Or if you're a realtor wanting to stage your listings for free, don't take my program.
You don't need to take any home staging course to do that. Go ahead and dabble and decorate! This is a completely unregulated industry so anyone can call themselves a professional home stager.
If you are serious about making money as a home stager, and you'd rather not waste 5 years figuring out what mistakes to avoid, then you've come to the right place!
Home stagers, if you've taken my program and another perhaps you would be willing to share some of the key differences you've noticed by leaving a comment below. After all, you could speak to the differences better than anyone!