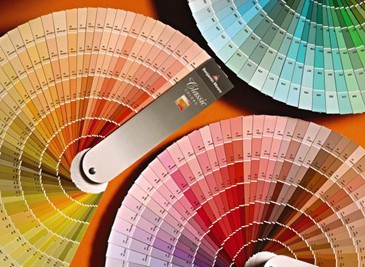 Some home stagers express concern about offering color consultation services.
They feel comfortable recommending colors for a home staging project but worry about picking colors for a redesign project for a clients who isn't moving.
In many cases, the fear comes from knowing how many times we repaint our own rooms because the color isn't as wonderful as we imagined.
I sometimes paint and repaint my own houses to get it "just right" but I don't let that stop me from recommending colors to others.
Here's why…
When I'm doing my own house I tend to be pretty adventurous.
The bigger the risk you take with a color, the bigger the chance that you won't like the end product.

Like many home stagers, color consultants and designers, I'm much more sensitive to the subtleties of a color than the average person.
I might look at a red wall and say there's too much blue in it. Most people would think it was fine as it is and have no clue what I was talking about.
If I'm making adventurous color recommendations for a client during a color consultation for the home they just moved into, I might say…
"This choice takes some courage. You will either LOVE it or HATE it when it's done.

I can recommend a very safe choice if you prefer. You'll like it but you probably won't say "WOW" the way you might with the more courageous choice.

What would you like to do?"
That way they know there is some risk that they won't like the final outcome.
They can then make an informed decision about whether they want to push their color boundaries a bit, or stay in the safe neutral zone.
Keep in mind that color is completely subjective.
If you take a dozen people through a room you won't get a unanimous verdict on whether they like the colors or not.
Do you ever make bold color recommendations for your clients?
How do you handle the risk they may not like it? Please share your experiences in the comments below.
If you want to know my favorite colors for home staging and my favorite color palettes, check out the Staging Diva Ultimate Color Guide here.
Photo Credit: Benjamin Moore.