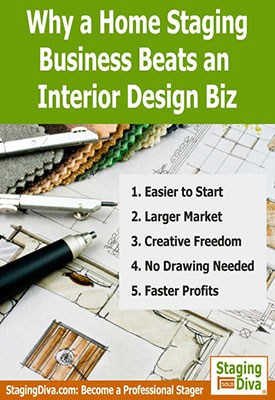 A home staging business beats out an interior design business when you're looking for what type of business to start. It's important to know that as a home stager you can also offer interior redesign services and color consulting, much like many interior designers do.
People who have just spent 4 years studying interior design at college might not like reading this, but if your goal is using your creative and decorating talents to earn a living, a home staging business is a much easier path to take than opening an interior design firm.
Here are 5 reasons why:
1. Home Staging Business is Easier to Start
You can't call yourself an Interior Designer unless you've completed a recognized college degree in interior design. This can take you 4 years and thousands of dollars to complete.
There is no such requirement to call yourself a home stager or decorator. These are completely unregulated fields, with no official credentials.
2. Larger Market for Home Staging and Redesign
The vast majority of people would never dream of hiring an interior designer. They believe this is something celebrities and millionaires do. They worry that an interior designer will recommend expensive renovations and force them to replace all their furniture. That's what they see on all those home makeover TV shows. Plus, decorating magazines rarely feature average homes their readers can relate to, instead they showcase million dollar properties most of us can only dream about.
In other words, the media reinforce the idea that interior design is only for the very wealthy. Home staging and interior redesign, on the other hand, appeal to a much wider market.
Someone who wouldn't have thought of hiring an interior designer will contact a home stager when they want to make more money when they sell their home. They rightly expect a financial return on their investment in home staging. Home staging is an investment, rather than an expense.
Even when I'm not promoting my interior redesign or color consultation services, I find people contact me for that. They'll say, "I'm not moving right now, but I'm hoping you can help me enjoy my home more in the meantime. I don't want to replace everything and I'm sure as a home stager you can show me how to reuse what I already have in better ways."
3. Home Staging Business Offers Greater Creative Freedom
When I started my home staging business in 2002, I was worried that it wouldn't offer me enough creative freedom. I knew I'd often be working with what a client already has.
What I discovered to my great surprise is that home staging actually offers me more creative freedom. My clients aren't worried that they have to live with my choices, so they let me do what I want as long as it fits their budget and time constraints.
I've done tons of interior redesign and color consulting projects for people who aren't moving. With these clients it's all about what they will be comfortable living with, and rightly so.
They can take months to decide which dining room furniture to buy, or they might follow my recommendations and then add something else that clashes with everything we've done! It's their home, so I can't tell them it's "gotta go!" It just means I won't be taking those "after" shots for my portfolio!
4. Home Staging Business Doesn't Require Drawing Skill
I really admire those Interior Designers who do a detailed sketch of what the renovations or new furniture will look like. These are needed to sell the client on all the money they're going to spend and what the end result will be.
I have no idea how to do that, though I'm sure I'd be better at it if I spent 4 years at college perfecting that skill.
I've done hundreds of homes and I've never had to do a drawing for my client. For my home staging clients who have vacant homes, I draw a very messy floor plan of my own because they won't ever see it. It's just a quick freehand drawing of the room's walls with measurements and I note the location of windows and doors to help me with furniture placement. I don't actually draw any of the furniture, except perhaps rough rectangles to note what furniture I'm planning on sourcing.
For my interior redesign clients, I might bring in samples of tiles, carpet or flooring and paint swatches to show how everything goes together, but I never actually give them a drawing or computer rendering of the finished room. When I'm recommending furniture purchases, I show them photos or meet them in the actual store so they can see the items in person.
5. Home Staging Business Offers Faster Profits
Interior design projects tend to take longer because of renovations and new furniture purchases. Despite what you see on TV where an entire home can be built in a weekend, in the real world it takes months to line up contractors and tradespeople and get all the work completed.
It's a rare furniture store that has what you need in stock (unless you're buying the floor samples), most make you wait months for delivery after ordering.
Many home staging, interior redesign and color consulting projects can be completed in a day or two. That means you get in, provide your advice/do the work, and get out with your money quickly.
Since you don't have to invest in any of your own inventory (when you follow the business model I teach in the Staging Diva Home Staging Business Training Program), you can be making a profit from your very first home staging client.
Many of my students, like Holly Battaglia for example, make enough from their very first client to pay for all of their training and make a profit too.
While it's not necessary to study interior design to be a home stager, I do have graduates who are already interior designers when they take my program. Many of them are looking for a way to recession proof their interior design business by adding home staging services!
What do you think?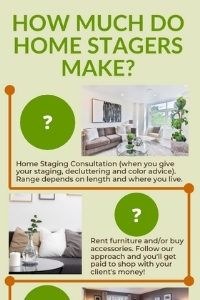 Whether you're a home stager, interior designer or just thinking of entering these fields, I'd love for you to share your thoughts and questions in the comment section below.
Curious About How Much Money Home Stagers Make?
You might be wondering how much home stagers make. I've prepared a handy FREE Tip Sheet showing the various phases of a home staging project and how much money you can make at each step, when you follow the approach I teach my students.