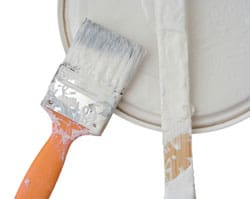 Home stagers, interior redesigners and color consultants are frequently asked to recommend the perfect white paint. After all there are hundreds of possibilities and most people can't see the difference from one swatch to the next.
I personally find that when you put the paint swatches next to each other, it's suddenly obvious which ones are more pink, green, yellow or blue. This is really helpful when you want the right white paint for trim or ceilings to complement the wall color, floors and other finishes in the room, as I had to do for a color consultation in a home under construction.
In this video, Interior Designer Kimberly Seldon shares her favorite 7 white paints from Benjamin Moore and why she likes each one. She's not speaking for home stagers in particular, but I do think her recommendations are helpful for home staging projects too.
To recap, her top Benjamin Moore picks for white paint are:
Papier Mache (AF-25)
Cloud White (OC-130)
Chantilly Lace (OC-65)
Floral White (OC-29)
Ballet White (OC-9)
Ice Milk (CSP-1025)
Decorator White (OC-20)
Of these I definitely use Cloud White for trim and Decorator White for ceilings the most.  If you'd like more color ideas for home staging, be sure to check out the Staging Diva Ultimate Color Guide: the easy way to pick colors for home staging projects. It covers:
When and how to discuss color in your home staging consultation
30 Tips to Choosing Colors for Home Staging
Different paint sheen levels and when to use them
What to do about ugly wallpaper
80 best colors for walls, ceiling, trim, doors, floors
15 Staging Diva Home Staging color palettes
Color recommendations include specific Benjamin Moore color names and numbers
How to use this information when buying any brand of paint
How to get your own Benjamin Moore Designer Kit
How to find local Benjamin Moore paint dealers
To be honest, color is one of my passions! Although I'm a big fan of neutrals for home staging, I've yet to paint an entire room white. I find it too boring and cold unless you've got stunning furniture and artwork (which rarely happens). That said, I do use many of the 7 shades Kimberley recommends for repainting trim, ceiling, doors, windows, cabinets and furniture.
What about you? What are your favorite whites and when do you use each one? Please share your comments below.
Debra Gould, The Staging Diva®
Debra knows how to make money as a home stager and she developed the Staging Diva Home Staging Business Training Program to teach others how to earn a living doing something they love. She is frequently profiled in the media for her home staging expertise and is the author of 5 guides for home stagers.