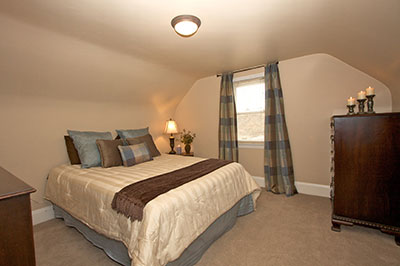 What could make a stronger case for hiring a home stager than an offer coming in after a home was staged…from a person who saw the home before staging without any interest?
That's exactly what happened with a Maryland property transformed by home stager and Staging Diva Graduate, Holly Battaglia.
Her clients, who found her online had their house on the market on and off for 18 months. They didn't have a single offer on the property despite all that time on the real estate market.
After they hired Holly to stage the house, the couple had 7 showings in 7 days and one resulted in an offer.
That offer was not accepted because it was too low and the sellers knew with all the activity happening on their property thanks to Holly, they wouldn't have trouble selling it.
Holly believes the offer (which had come from someone who'd seen the house before), was because the prospective buyer felt an urgency to take action.
They were afraid that since the property looked so good after staging, someone else might snatch it up first.
That's what home staging is all about…perception of how desirable a property is. And that's why home staging works.
Besides working full time as a home stager, Holly works part time as a nurse and is a busy mother of four children.
When someone has as hectic a schedule as Holly, it makes a lot of sense to market online because she has something promoting her staging business 24/7 while she carries on with her full life.
According to Holly, the fee she made on this one project, which was a result of her online marketing efforts, covered the cost of her home staging training program and her Staging Diva Directory of Home Stagers listing.
Staging Diva Graduates, if you're still trying to decide if a listing in the Directory of Home Stagers is worth it, does this story change your mind?
Click here to learn about how to join the Staging Diva Directory