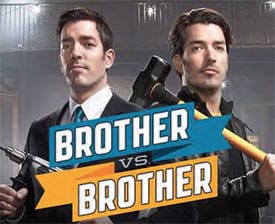 Many of my readers are HGTV addicts, in fact that's how many of us eventually find our way into home staging.
Have you dreamed of being a home stager on HGTV? Several Staging Diva Graduates have already appeared on TV and this could be your chance too! I have to say from personal experience it's really fun being on a TV shoot and getting to see all the behind-the-scenes of how they put these shows together.
The casting department for two HGTV shows asked me to spread the word about their open casting call in my home staging community.
You could be the right fit for either of these: Brother vs. Brother, HGTV's hit new competition series featuring The Property Brothers (who are from Canada and if you haven't seen them in action, they're amazing), as well as a brand new HGTV Renovation Competition Series.
Home stagers, here's what HGTV is looking for:
Brother vs. Brother
Passionate, charismatic individuals who have major hands-on skills, an eye for renovation and real estate know-how.
(Contractors, carpenters, Interior designers, home stagers, architects, real estate professionals, artists and those with design expertise).
HGTV Renovation Competition Series
Dynamic friends, couples or family members with big dreams and a love for renovation and design.
(Handy teams of two who think they have a superior eye for design. Although home renovation experience is a plus, it is not required).
HGTV Casting Call details:
When: Monday, September 16th from 10AM to 1PM
Where: Hyatt Regency Austin- 208 Barton Springs, Austin, Texas, USA, 78704
For more info visit: www.castinghgtvshows.com
Now I know I've written in the past about how these TV shows aren't that realistic, but that doesn't mean it wouldn't be really cool to be on one! So get yourself over to the open casting call if you're in Texas. You just never know what will happen!
If you go, or you've ever been to a casting call or been on TV, let us know in the comments below. Also please share this post in social media to help spread the word with the home stagers you know who might be interested.
Debra Gould, The Staging Diva®
President, Six Elements Home Staging and Voice Of Possibility Group Inc.
Debra created the Staging Diva Home Staging Business Training Program to teach others how to make a living as home stagers and how to get media attention. In addition to HGTV, Debra Gould's media coverage includes: CityTV, GlobalTV, CBC, CBS Radio, CNNMoney, Wall Street Journal, Woman's Day, Reader's Digest, MoneySense, Entrepreneur, House and Home, Home & Decor, Style at Home, Centre of the City, USAA Magazine, FabJob Guide to Become a Home Stager, Home Style, National Post Homes, This Old House, Home Business Magazine, Globe & Mail and others.