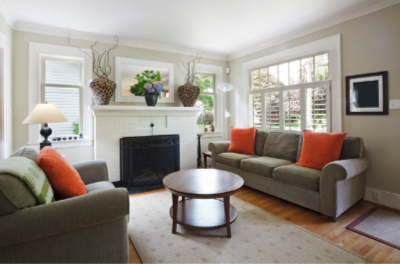 Graduates of the Staging Diva Home Staging Business Training Program know that while I teach the pros and cons of having your own home staging inventory, I'm a big fan of not having it.
It's really not necessary to invest tens of thousands of dollars in home staging furniture, art and accessories and I say this as someone who has staged hundreds of homes, many of them vacant or only partially furnished.
There are tons of pitfalls of furniture rentals for home stagers.
Early in my home staging career I was invited by an "established" home stager to tour through a condo she had staged. She was selling her furniture rental inventory and assured me I could get a real steal by buying all the contents from her.
We Made The Same, But I Had No Overhead
She was quick to point out that she'd made $5,000 staging that property so my investment would pay back quickly.
What she didn't know was that I had already staged a number of vacant properties using inventory from an actual rental company and made just as much profit as she did, without having any of her overhead.
Needless to say I didn't buy what she was selling and appreciated that early view of how much better my business model was than hers. After all, she was selling her inventory!
If she was making so much money from it, she wouldn't be doing that!
I've been a home stager since 2002 and have communicated with thousands of home stagers over the years in more than 24 different countries. A certain pattern has been obvious to me throughout that time.
The home stagers most likely to go out of business within their first or second year are the ones who maintain their own inventory.
Their sizable upfront investment, plus the ongoing cost (and hassles) of storage, pick up, delivery, cleaning, maintenance and insurance usually have a lot to do with this.
"You Don't Know What You're Talking About"
Many new home stagers believe I don't know what I'm talking about. Their situation is "special" they tell me, "it's different where I live."
Hey, if you really want to get into the furniture rental business, go for it!
But before you do, I'd like to share some actual comments word-for-word that home stagers have shared in emails with me, on Facebook, etc. I'll leave their names out since they might not want this to be public:
"Had another Glamorous Day in the life of a Home Stager: Inventory maintenance in +100 heat followed by a refreshing round of washing and drying one of my tubs of bath towels."
"I have selected each and every one of our pieces of inventory, and including cushions, towels, bedding, artwork, accessories and hard furniture we own around 7,500 pieces of stock. While that seems a lot, when you cover off pillows, cushions (oh the cushions!!) and then designer accessories, the list grows quickly."
"I am so upset! I am out of the country and I just heard the house that I staged was broken into. They took a lot of my inventory and the owner said he has nothing to do with it: it is my problem!"
"Anyone have storage suggestions for lampshades? I'm tight on space, so putting a couple into a plastic tub is not very efficient. They're currently in boxes which is not very protective either."
"I already own enough stock to furnish 12 large condos but since the market slowed down all that inventory is tied up indefinitely. Now whenever I get a new client, I have to go out and buy more stuff. I bought everything on credit but a year from now I'm going to have to come up with close to $100,000 to pay off the debt."
"A REALTOR just called to see if I was interested in purchasing the inventory she just purchased from another Home Stager who's leaving town. Anyone else interested?"
"Vacant House was Staged. Stager put up rods and drapes. In buyer's Contract, they asked for window treatments. Sellers knew they were not theirs, so it was crossed out and agreed to by buyers. At Closing, the Buyers wanted the rods, as they were affixed to the home and not disclosed as being Stager's inventory."
"Yes, that's me double parking a U-Haul filled with my home staging inventory because there's nowhere else to park that's anywhere close to the house I'm staging."
So if you don't want to take my word for it, based on my years of experience and all the home stagers I've taught or coached, I hope these comments have let you glimpse the realities of owning your own home staging inventory.
Consider also the potential hassles and liability of bringing bed bugs from one property to another (or potentially your own). You can read my free report on how home stagers can protect themselves from bed bugs here.
I'd love it if my readers would add their own experiences with the pros and cons of having your own inventory. Please add your comments below!