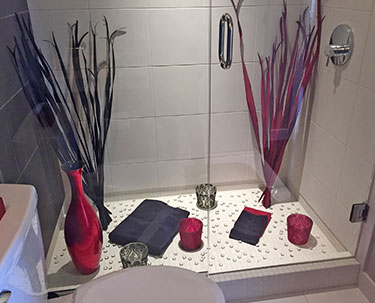 I never tire of house hunting and it's even more fun now that I'm a home stager and I also train home stagers. It's fascinating to observe how people live in their homes and how they choose to present them for sale.
On this particular day, I toured 15 properties because I was actually considering buying.
Most of the homes were in desperate need of home staging, I really should have taken more pictures to show you! Some of the properties were so beautifully staged, even I fell in love with them. I seriously considered putting an offer on a house that was twice as big as I wanted because it looked so perfect!
And in other properties, the home stager went overboard into the realm of bad home staging. As soon as we walked into this condo bathroom and saw the shower, my daughter said, "Oh Mom you have to take a photo of this to show your Staging Diva students!"
She knew immediately— as I hope you do too— that this is an example of bad home staging.
You might find this an appealing vignette (or still life). I love the combination of red, black and white, so much so that I used these colors in my own home staging company's logo.
But is this shower scene good home staging? It's important to remember why we are staging a home in the first place.
How to Eliminate Bad Home Staging:
1. The whole point of home staging is to romance the buyer. You're appealing to them on an emotional level, not a rational one. You want to create an environment they will want to imagine themselves living in. Give them that "this is home" feeling, even if they don't consciously know exactly why.
2. The goal of home staging is to sell a home fast and for top dollar. When your home staging screams "I've been staged," isn't that a bit like putting up a sign that says, "This home has been decorated to help you offer more for it than you might otherwise have done"?Being subtle works better. In fact, I've previously gone so far as to say that great home staging is invisible.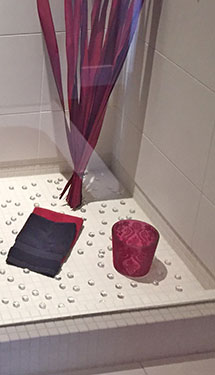 3. While I applaud the home stager's effort to carry her red pop of color (that appeared in every room), into this otherwise gray and white bathroom, it's how she did it that I have an issue with. This shower stall floor is even more contrived than a tea tray on a bed (my other pet peeve). Yes, those are carefully placed glass stones surrounding the towels, candles, dried flowers and vase.  I wonder how long she spent on this scheme?
4. Great home staging doesn't distract from the home itself. In this case, I have no memory of the master bathroom other than this silly shower scene. Showcase the home's best features and downplay the negative ones. Don't keep people looking at "smoke and mirrors" instead of the home itself.
5. Don't set something up that's just begging to be undone. In fact that might be a quick test of whether it's too contrived or not. Can't you imagine some sassy potential buyers saying, "Let's see how good the water pressure is in this shower!"
Home stagers, do you think I'm off base with my criticism of this carefully styled shower stall?
What other tips would you add to my list of how to avoid bad home staging?
Please share your thoughts and ideas in the comments below.
Debra Gould, The Staging Diva®
A home stager since 2002, Debra Gould created the Staging Diva Home Staging Business Training Program in 2005 to help others make a living from their creativity. Debra is the author of 5 guides including the Staging Diva Ultimate Design Guide: Home Staging Tips, Tricks and Floor Plans.