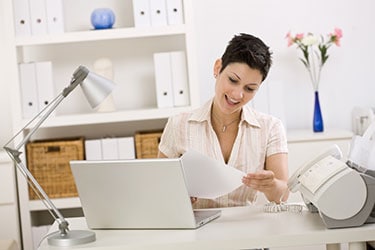 All this talk of following your passion is really stressful, especially when you're a creative person with lots of interests.
It seems to presume that we were all born with one singular passion, or one true mission in life.
That our lives will be a failure if we don't find it.
That something horrible might happen if we pick wrong.
I'm often asked, "How did you know your passion was home staging?"
To be honest, I didn't! I knew it was one of them. I was also in love with color.
And real estate. Though I knew I didn't want to be a real estate agent.
Why people rush into becoming a real estate agent — a business model that steals all their evenings and weekends, forces them to work with a client for months or years (without pay), and where you're expected to be "on call" 24/7— is beyond me.
Home staging, when you follow the right business model, keeps you in the buzz of real estate without all those downsides that come with being a real estate agent.
Plus, home stagers often make way more money than real estate agents, and our time is our own. But that's actually a different article.
Back to the question of how to be sure of your home staging passion.
One of the reasons I named my business Six Elements was that it didn't lock me into any one endeavor! I purposefully didn't want "home staging" as part of my company name before I knew for sure how interesting I'd find it.
Six Elements was a play on the concept of the 5 Elements of Design. My "sixth element" was passion.
When I started my home staging business I had a 7 year old to support on my own and no other source of income.
I didn't know how things would turn out when I built my home staging website in 2002 and shared why I thought homes that were decorated to sell, would sell faster.
I used before and after photos from my own homes since I didn't yet have a home staging portfolio. I wrote from my heart.
By the way, in my home staging business I have always been able to also indulge my passion for color, redesign and even flower arranging.
My clients pay me for all of these things, and they are all under the same business. I share how I did that in the Staging Diva Home Staging Business Training Program.
So to address that fear of "What if I choose the wrong passion when I become a home stager?"
Think of it this way, with one or two clients you can make back the entire cost of the Staging Diva Training Program. And if you follow the business model I share, you won't have to invest in any inventory either.
So what's the worst case scenario?
You take the program, start your staging and redesign business. You do a few projects and decide you aren't as passionate about it as you thought.
You decide to quit and do so with the knowledge you gained from the experience, and the satisfaction of knowing you tried and it wasn't for you.
Then you can go on with your life. You try the next thing you're passionate about, and never give home staging another thought.
Did you notice that was the worst case?
You are still ahead of where you are now, if you've been stuck spinning around with "what if?" fears in your head and doing nothing to put you closer to following your dreams.
OK, so what's the best case scenario?
You take the Staging Diva Training Program and learn everything you need to know to launch your home staging business at minimal cost.
You discover you love being a home stager.
You realize you can stop worrying about money like you used to, because you're making a great living doing what you love.
Years later, you still love being a home stager and you keep doing it.
Or years later, you decide you want to try something else. Only now it's easier to jump into the next thing because of all the confidence and personal growth you experienced in your home staging business.
It's all up to you.
Which is back to my first point that most creative people have several interests and passions.
It's important to remember that choosing one of them to pursue now doesn't close the door on all of the rest of your passions for the future!
What do you think? Has fear of choosing the "wrong" passion kept you stuck? Have you ever noticed that once you're moving forward it's easier to see the road ahead of you? Please share in the comment below!
Debra Gould, The Staging Diva®
Debra Gould knows how to make money as a home stager and she developed the Staging Diva Home Staging Business Training Program to teach others how to earn a living doing what they love. There are over 10,000 students in 23 countries learning her home staging business model.