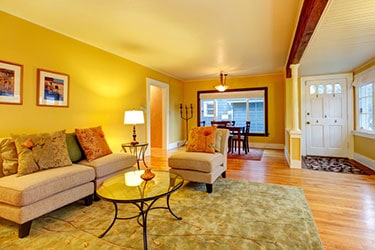 I stumbled on a magazine article that claimed that if you look at enough real estate listings you'll start to notice that all the homes on the market look pretty similar.
I can't totally disagree!
First of all, we've all seen the neighborhoods where every home is one of three or four choices for an exterior, and the floor plans are pretty much the same, unless there have been renovations over the years.
Or what about condos? Those cramped boxes in the sky that all look the same when they start off, but can look radically different with home staging when it's done well.
We've also probably all seen the badly staged homes that are so decluttered and depersonalized that they look boring at best, or vandalized at worst.
Furniture Repeats Inevitable in Staged Homes
But this article I read was really talking about staged homes and the fact that so many home stagers put the same furniture arrangements in every home.
You can't really blame the home stagers if they are working with their own inventory of home staging furniture and accessories.
After all, how much inventory could one home stager possibly have?
I've seen some claim online that they can furnish 25 homes at a time, top to bottom. Good for them. That's certainly not an investment or amount of overhead that I'd be comfortable with! These home stagers are also fairly rare.
Let's face it, most home stagers (who choose to invest in their own inventory) could maybe furnish 3 to 6 homes tops— especially when they don't do every room.
If these home stagers are focussing in a tight geographic neighborhood, it's only natural that the same furniture and accessories will keep repeating themselves as they claimed in the magazine story I read.
If you've been reading Home Staging Business Report for any length of time, or you're a Graduate of the Staging Diva Home Staging Business Training Program, you already know I'm not a fan of home stagers working with their own home staging inventory.
Unless they especially want to be in the furniture rental business.
I don't like it because of the investment needed, the ongoing costs and ongoing headaches that would naturally come with having a bunch of furniture and accessories to buy, store, rent, clean, keep track of, deliver, pick up, insure, etc.
You get the idea.
And here's another reason, I don't want all my staged homes to look alike!
I can go to a number of suppliers who each have about 100,000 square feet of their own inventory. I can choose exactly what I want for a particular house. I don't have to repeat the exact same living room combination in house after house because I have far possibilities to choose from.
And I get paid for my time to search through their inventory! Which is way more fun than climbing around in my own storage locker looking at the same selection year after year.
I also make a commission on the furniture and accessory rental without taking on all the downside risks I've just highlighted.
Now I realize not everyone will have the same access to furniture rental companies. But there are so many other ways to manage this as I discuss in detail in the Staging Diva Home Staging Business Training Program.
So, what do you think? Have you noticed that a lot of staged homes look alike?
Do you have your own inventory of furniture and/or accessories? And if you do, are you willing to share what investment you made and what it costs you to carry that overhead every month?
Please share your thoughts and ideas in the comments below.
Debra Gould, The Staging Diva®
A home stager since 2002, Debra Gould created the Staging Diva Home Staging Business Training Program in 2005 to help others make a living from their creativity. Debra is the author of 5 guides including the Staging Diva Ultimate Design Guide: Home Staging Tips, Tricks and Floor Plans.