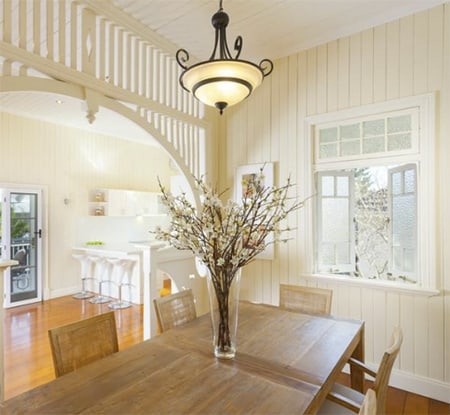 I believe that great home staging is invisible. That sounds like a paradox.
What I mean is that when you've really mastered the art of home staging, few people will realize the house is staged.
Potential buyers just know that they love the house. And that's our goal. While people shop for real estate with a logical list of criteria, the home they buy is chosen largely for emotional reasons.
When you romance buyers and they aren't feeling manipulated, that's the most effective home staging.
It's what we should all strive for. That's why I stay away from silly home staging tricks.
This dining room photo from Staging Diva Graduate Imogen Brown of Home Staging Brisbane is such a wonderful example of what I'm talking about.
Everything looks fresh, warm and inviting. It feels calm and organized. It seems large enough, even though these rooms are probably not that spacious.
The home says "well maintained" at a glance. Meaning buyers aren't walking through worrying about the condition of the roof or the foundation.
By the way, Imogen reports that this Brisbane, Australia home sold within 90 minutes to the first couple who saw it! How's that for proof home staging works?
Bad staging is when everyone walks in and says, "This house is staged. Look at that."
Why are they saying that? It's usually because everything is so over the top or contrived.
You know, the tray on the bed with a tea pot, the champaign bucket and flutes by the jacuzzi, etc. There are so many examples, but I'm not sharing any photos here because I don't want to embarrass anyone.
Overly contrived set ups equal bad staging.
I watched a YouTube video of a woman who teaches home staging courses (!) suggesting setting up a picnic on a blanket in a master bedroom, complete with champagne flutes, an empty ring box, and a little note about getting engaged.
Granted, she was suggesting this when there's no budget for furniture.
But this silly idea would do nothing to enhance the look of a master bedroom and would only serve as a terrible distraction during showings. It would get totally messed up by the first kid (or perhaps parent) who walked into the room, but that's another story.
When staging is too contrived, or overdone, you've destroyed "the magic."
The main point of home staging is to sell the house faster and for more money. To put that another way, our goal is getting buyers to pay as much as possible. Why would you want to tell them that as soon as they walk in the front door?
It would be like Houdini telling you how he got out of those handcuffs when he was trapped under water. You'd never need to see him do it again.
Or your date getting all dressed up for your special evening and then warning you that they never look like this in everyday life. It kind of ruins the romance.
People will obviously know a house is staged when it's a vacant home that's fully furnished but there's no food or clothing. That's a different matter.
If it's a house where people are actually living there, it shouldn't be screamingly obvious that a home stager went through carefully arranging every room and closet.
It should just look like it's a beautiful and well maintained home that's easy to live in because there's plenty of space for everything you want to do. Just like the great example by home stager Imogen Brown at the start of this article.
Home stagers and real estate agents, what do you think? Please share in the comments below.
Debra Gould, The Staging Diva®
A home stager since 2002, Debra Gould created the Staging Diva Home Staging Business Training Program in 2005 to help others make a living from their creativity. Debra is the author of 5 guides including the Staging Diva Ultimate Design Guide: Home Staging Tips, Tricks and Floor Plans.