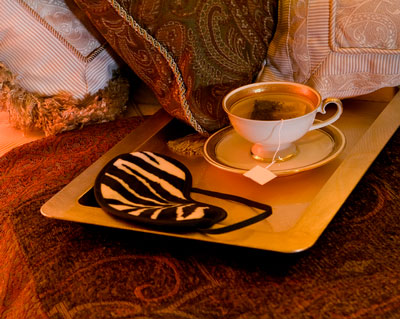 I'm having so much fun with this series on silly home staging tricks.
I would also love to see more comments with examples of silly staging tricks you've seen. Please share below!
Earlier this week I shared some creepy staging tricks and some silly staging tactics which happen in the kitchen and dining room of many homes.
Today's post is all about something I'm very sick of seeing and buyers are becoming very aware of:
The obviously staged bedroom
How many times must we be forced to see a throw "casually" draped diagonally over the foot of a bed with a tray sitting on top holding a couple of wine glasses or a teapot with cups?
This might be okay for a hotel honeymoon suite, but normal people don't live that way.
Speaking of diagonals, I can't understand why people place a bed diagonally in a space. I've never seen a case where it worked. It usually just makes the room look weird and crowded.
Worse than a bed on a diagonal, though, is an imaginary bed.
Some home stagers will put a rug in a room with throw pillows and some books to represent a bed.
I once watched a hysterical YouTube video in which a so called home staging expert advised setting up a picnic blanket in a master bedroom with a little vignette when there wasn't sufficient budget for furniture.
She recommended a scenario that would look like a marriage proposal, complete with ring box, love note, picnic basket and stem ware. Seriously, not kidding!
Talk about a silly distraction from the main point of decorating a house to sell!
When it comes to the ever-important master bedroom, if the buyer can't walk in and see how their bed will fit or how they can live in there with all their other furniture, they're going to decide that the room doesn't work for them.
Make sure there's an actual bed with usable night tables on each side and nice bedding.
Ideally, there should be one long dresser (usually with a mirror on top) and one "high boy" dresser or tall chest of drawers.
To fit all that in, you may need to use a double bed rather than a queen or king.
Be careful with sleigh beds or tall canopies, they shrink a bedroom faster than any other piece of furniture. Only use them in an exceptionally large bedroom.
Monday I'll be posting about silly staging tricks that buyers would never fall for – in the bathroom.