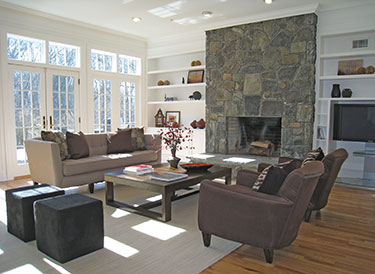 In my career as a home stager I have done a ton of home staging consultations on occupied properties where I'm often using what a client already has in new and better ways.
Taking on home staging a vacant property is a whole different exercise. It can be daunting at times, especially if it's an especially large home.
"You just need to take it one room at a time," says Staging Diva Grad Susan Atwell of Atwell Staged Home in Westchester County, New York.
During our Staging Diva Business Accelerator Coaching call recently, Susan and I talked about a 6,000 square foot vacant home she had recently staged. She graciously provided these home staging portfolio photos of the family room so I could share the transformation with you.
It's hard for anyone to argue that furniture and accessories aren't important when selling a home on the real estate market.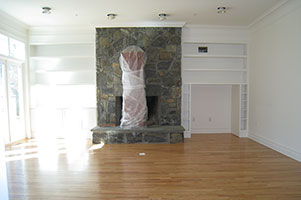 Imagine you're a prospective buyer and you walked into this empty family room. Then you walked through another 6,000 square feet of similarly empty space.
Are you getting excited imagining your family living there? Are you instantly picturing how your furniture will fit, and how you'll use each room?
If you have the eye of a  home stager or decorator, the answer might be yes.
How Big Is This?
But, if you're the average person, you'd have no idea how your furniture would fit. You'd wander the endless rooms looking for defects in the architecture or finishing. You'd worry about that mark on the carpet, whether the walls needed repainting, the cost of fixing that broken tile you noticed because there was nothing else of note in the bathroom, whether you liked the kitchen counter.
The average person has no idea how large an empty room is (or how to decorate around a feature they don't especially love).
With no visual cues (like that provided by pieces of furniture), a 10′ x 10′ room doesn't look a whole lot different than a 12′ x 12′.
Yet, one is 100 square feet and the other is 144 square feet, or 44% bigger!
That's a significant difference in a smaller home.
And if they're rambling through 6,000 square feet of empty space, how does the average person wrap their head around that?
Focus on ROI When Home Staging a Vacant Property
If you're a home stager and you're having difficulty convincing your clients to invest in home staging, make sure you're focussing on the investment, not the cost.
There's a difference.
A good investment yields a return (or ROI in business terms). The home seller invests $5,000 in home staging for example, and his house sells faster and for $10,000, $50,000 or even $70,000 more.
If you've never calculated your client's ROI, it's time you did! It's a powerful number to throw into your own home staging success stories that you share with clients to prove home staging works!
In the above example, if the client invested $5,000 in home staging and his house sold for $10,000 more than the real estate agent originally projected, or above what the client was prepared to sell for, then you could say he got a 100% return on his investment.
That's a very significant return compared to any other way of legally investing your money.
Is there an absolute guarantee of that return? No, because several factors go into a successful sale on the real estate market.
How many investments have a guaranteed return? I can't think of one.
It's a matter of considering the odds of success.
Is someone more likely to make an offer on a home that they've just fallen totally in love with? Are they more likely to worry about losing their chance to buy the home if they perceive it as being highly desirable to others too?
Is is easier for them to fall in love with a well staged home than a vacant one they can't totally understand?
The answer to all these questions is yes. Do you agree? Please share examples from your own projects in terms of what ROI your clients received in the comments below.
And please share this article via social media to help boost awareness for the difference home staging can make in the sale of a vacant home! Your clients will have a better understanding of what you can do for them.
Debra Gould, The Staging Diva®
President, Six Elements Home Staging and Voice of Possibility Group Inc.
Debra Gould has an MBA and knows first hand how to make money as a home stager. She developed the Staging Diva Home Staging Business Training Program to teach others how to earn a living doing what they love. There are over 10,000 students in 23 countries learning her home staging business model. Read their Staging Diva Reviews.