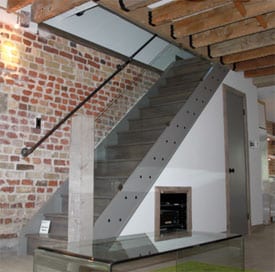 Like most home stagers, I can't resist a weekend open house. I like to stay on top of what's for sale in the neighborhoods I stage in, and what homes look like at various price ranges.
Occasionally, I pick up a new client visiting open houses and speaking with the real estate agent, but that's not always my primary goal.
Last weekend, I was just curious to see the interior of a modern loft-style home that replaced the cottage that used to be on the site in an established family neighborhood.
My first impression was how dark it was inside.
To be honest, I assumed the walls were white and that the lighting was just too dim in every room.
Speaking with the builder, he told me that "warm colors are out of fashion so no earth tones were used in the home." That's when I realized that what looked like boring sterile white with dim lighting, was actually gray walls and probably adequate light!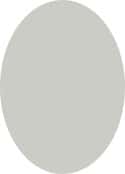 I don't know the exact color/brand, but I'm guessing it's something like Stonington Gray from Benjamin Moore (HC-170) shown here. It's just too dull to paint an entire house, especially when the floors and trim are a darker gray!
Pops of color from furniture and accessories would have improved the situation, but there were none here. In fact almost all the contents were white, black or light natural wood.
It's ironic that the exterior and main level are all exposed brick (which would definitely complement earth tones). To my mind they set an expectation for those tones to be continued. After all, if you didn't like earth tones at all, the exposed brick wouldn't attract you to this real estate property in the first place. Instead of continuing the theme, they went to dull gray on all remaining walls, and a gray concrete floor with the belief that it's the current "trend."
Perhaps the builder should stick to building and let a home stager do the home staging for him? This is a million dollar 3-bedroom home on a very tiny lot in a family neighborhood. I wonder who he thinks the target buyer is?
In any event, I don't believe warm tones will ever go out of fashion, especially in cold climates! Home stagers, what do you think? What are your favorite neutrals for painting for home staging? Please share your thoughts in the comment section below.
Debra Gould, Creator Staging Diva Home Staging Business Training Program
Staging Diva Debra Gould was dubbed "as color conscious as Matisse" by Boulevard Magazine in a 2001 cover story. She is the author of 5 guides including the Staging Diva Ultimate Color Guide: the easy way to pick colors for home staging projects. In this important guide, Debra shares her 80 favorite Benjamin Moore colors, by specific name and number so you can use them too. She also gives you 15 different color palettes for painting an entire house. Learn more about this Color Guide for Home Staging.