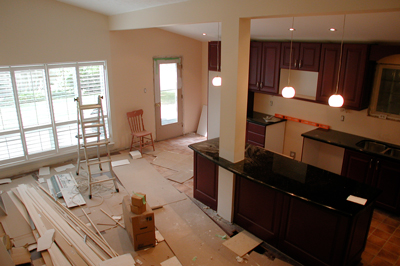 I love flipping through color books and paint swatches, it totally brightens my mood and gives me energy.
For color consultations, I sometimes bring a few of my color books to a client's home because not everyone is prepared to tell me what they like.
Flipping through the pages helps them figure out what look and mood they're drawn to before I recommend their new paint colors.
That applies when I'm doing a color consultation as part of an interior redesign discussion.
When I'm choosing colors for home staging, I don't care too much about what the client likes. It doesn't matter what they'll feel comfortable living with, because in a staging situation it's all about decorating for home buyers.
Over the past week, I've done two color consultations (for people who aren't moving) and this book by Leatrice Eiseman came in handy.
It's called Colors For Your Every Mood: Discover Your True Decorating Colors
and has sumptuous photos of different rooms in a variety of decorating styles.
First Color Consultation
My first appointment was at a luxury home in Forest Hill that had been totally gutted top to bottom. It was really a challenge because the place was still a construction site. There was no furniture. Much of the final lighting was yet to be installed!
The owner had her iPad with photos of things she liked, and we went from there.
In this case, I had to stay fairly neutral because I had no idea what precise colors her furniture and art actually were.
And in most rooms, I didn't have floor color as a reference because the hardwood had yet to be installed.
For this home I relied exclusively on the colors I recommend in the Staging Diva Ultimate Color Guide: The Easy Way to Pick Color for Home Staging Projects.
I know they work in a wide variety of homes and with different lighting and furniture styles.
Standing there surrounded by construction debris and wearing my coat because there was no heat, I managed to choose a color palette for this 5 bedroom, 3-story home in only two hours!
Since her husband had written out my $500 check in advance (before driving off to keep their son amused during our meeting), there was no way I wanted to go over the allotted 2 hours.
I believe in being paid for my advice, so I kept it short and sweet so we could finish within the deadline!
QUICK TIP: One of the ways I made it easier for myself to work in this situation was by opening one of my color fan decks and having her help me choose what color she thought the furniture for each room was.
Naturally, her visual memory of the actual colors may not be accurate, but I needed something to go by!
When evaluating wall color options, I'd put them up against the "red" of the couch, or the "blue" of the dining room chairs, for example.
Second Color Consultation
For my second color consulting client, I did a home in the Beaches area that was built in 1919. It had lots of dark wood trim (which they didn't want to paint) and leaded glass windows.
The couple was very nice and the husband really warmed up to the whole process about 30 minutes into my visit.
When I arrived he had his arms crossed over his chest. Once we hit the kitchen and he showed off his new  6 burner gas stove, and told me about the chef certificate course he's taking, he became much more open.
It turns out he's a very talented (amateur) photographer and we had fun hanging many of his works in various rooms of the home.
His wife served tea, and together we finalized which glass tile to use for their newly renovated kitchen. Then we chose drapery for the living and dining rooms (from the many options she'd bought ahead of time), and finalized paint colors for the entire house.
In this client's case we could have more courage with color because I could see what they liked and all the furniture and lighting were in place.
We came up with a fabulous color palette that really pulls the rooms together and works with the dark wood trim.
It was a lovely afternoon for all of us. I know because she hugged me at the end and said all her questions were answered (how many jobs does that happen in?).
And I left with a check equal to what many people make in an entire week after only 2.5 hours work. I don't say this to brag, but to emphasize that it's possible to be REALLY well paid for your creative talent when you understand the business of home staging and color consulting!
It really is a joy to do work that you love, help people and be well-paid for it at the same time.
If you love the idea of doing what I've just described, and you're struggling to get paid what you're worth, I encourage you to listen to the Staging Diva Home Staging Business Training Program.
I hope you enjoyed this behind-the-scenes look at two of my color consultations for clients who aren't selling their homes. I'd love for you to share some of your own experiences by commenting below.
I'm taking a poll and you can vote by commenting.
The question is: Do you have trouble choosing colors for your own home even if it's "easy" to do it for a client? It's really hard for me, how about you?