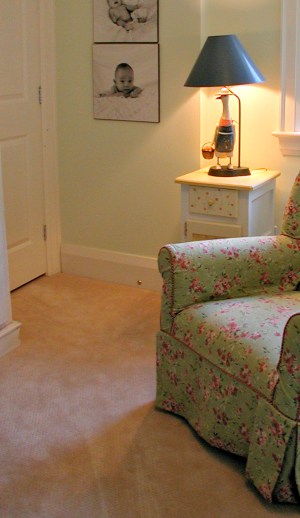 New home stagers often say, "I can't build my home staging portfolio because I don't have clients yet!" That's such a defeatist attitude. Instead, the question they should be asking themselves is, "How can I build a home staging portfolio right now to help me get clients?"
Asking "how can I?" puts you in the right mindset to find a solution (to almost any challenge).
I'm willing to bet any creative person with a digital camera (or even the camera on their cell phone) can put a home staging portfolio together this weekend.
All you need are three good sets of before-and-after pictures.
After all, you live somewhere. Plus, you know someone who lives somewhere. There are rooms waiting to be decorated or staged all around you!
Even if you already have a home staging portfolio, perhaps it's ready for some "staging" of its own. So here's the challenge: Look around your rooms and imagine, "What can I do here that will make a dramatic difference?"
Avoid this home staging portfolio hazard
The most common home staging portfolio pitfall I see is new home stagers fall into when they shoot before and after photos in their own home is not making the transformation dramatic enough.
The "after" shot might be fine, but home stagers (who naturally want everything to look nice) don't make the "before" shot look bad enough!
You want a really bad "before" so your "after" photo will look that much better. Remember the whole point of a home staging portfolio is to help you sell the transformation you can achieve for your clients.
When you're out doing home staging consultations for real people, you won't have any trouble finding really bad "before" pictures. If you haven't been to enough homes yet, you don't realize how really bad it gets!
As a natural born home stager or decorator, your house (even at it's worst) doesn't look as bad as what you'll find in the real world.  So when you shoot before and after home staging photos in your own home, the transformation tends to be less dramatic than what you'll be doing in the real world.
Fast Home Staging Portfolio – 7 Tips
1. Your own house probably looks pretty staged already.
I'm guessing that a lot of your house (with normal cleaning and tidying up) already looks like an after picture! Clean up, shoot your after shots, and then take things apart to do a before shot. In other words, you will be re-creating the typical problems you'll be finding in your clients homes before doing a home staging consultation.
You don't have to live in a million-dollar home to make it worthy of photographing for your home staging portfolio! Most of your potential clients will likely live in very average homes that aren't expensively decorated. Remember your portfolio needs to cater to your potential clients so giving them photos they can relate to is a good thing!
2. Pay attention to the art, furniture placement and accessories.
Do not leave all the same art on the wall as in your before shot or you're not going to show much of a transformation.
Don't keep all of the furniture in the same spot for both photos. Many people live with their furniture in whatever spot the movers put it. So don't assume the "wrong" furniture positioning wouldn't actually happen in your home if you didn't live there.
3. Master bedroom transformations are great for your home staging portfolio.
If you have lovely bedding, pillows, shams and all that jazz on the master bed right now, get rid of all of that and put something ugly or mismatched on the bed for your before shot.
I've actually staged homes where people are using a zipped-open sleeping bag as their bedding in the master bedroom. That's what exists in the real world, so you could do that for your before. A bedroom is easy to stage within a few hours for your home staging portfolio.
4. Stay away from the kitchen unless you're going to start repainting, changing cabinet knobs and bigger changes like that.
A kitchen is not as easy to home stage over the weekend. It's not enough to show a cluttered kitchen with photos and drawings on the front of the fridge and a bunch of clutter on the counter, and then you take it all away for the after shot. That is not a good before-and-after story because all that tells potential home staging clients is that they should de-clutter their kitchen. They'll say, "I can do that myself. I don't need to hire a home stager."
5. Bathrooms are often an easy home staging transformation.
My bathroom is always the very first room I redecorate when I move— a tradition I started with my very first apartment in my 20s because it was the cheapest and fastest thing I could decorate.
When I became a home stager I was shocked to discover how few people had nice shower curtains with matching towels. No wonder that stuff is always on sale!
For your before shot you could have just a shower liner hanging, mismatched towels, a lot of clutter on the counter and maybe an off-size mirror. These are things you can fix in a bathroom pretty easily.
You can also add artwork or fresh flowers for your after shot.
If you've been meaning to repaint your bathroom or powder room anyways, all the better! Plus, if you do have to change cabinet knobs there aren't that many of them (compared to a kitchen redo).
6. Living rooms and dining rooms can be transformed quickly.
For your "before," move the furniture around into a more problematic arrangement. You could put art on the walls that is the wrong size for where it is. These are common living room problems that you'll see in houses once you get out there.
You could also have rugs that don't match, or an area rug that's too large or small for the room.
In a dining room, typical "before" problems include: an overstuffed china cabinet, a table facing the wrong way or with too many chairs around it, fussy drapes and an ill-proportioned chandelier at the wrong height.
Make sure your before and after photos go beyond simple de-cluttering. Your clients can do that themselves. They'll want to hire you as a home stager when you demonstrate that you can make changes they wouldn't have thought of themselves.
7. Don't make your audience "work" to see what you've done. It has to be obvious.
Potential clients aren't standing in the rooms to appreciate the degree of the transformation you achieved. You'll need fairly dramatic changes in your before and after photos that they can see at a glance. Your home staging portfolio needs to showcase your abilities in an obvious way.
Texas Staging Diva Graduate, Sandee Foley discovered how bad a real "before" can be when she did a home staging consultation for a bachelor. Among other surprises, he was using paper towels rather than real ones in his bathroom.  Presumably to cut back on laundry!
There's a ton of ugly decor in the real world
I don't believe creating these dramatic "before" scenarios are wrong or misleading. You are representing what you'll find in your clients homes before you stage them and showing how you'd transform the space in your after photos. 
 When you get the FREE Staging Diva Home Staging Quiz, you'll find 10 before pictures from 10 of my clients' homes.
They're perfect examples of the typical problems you'll find during your home staging consultations. And, you'll realize how easy the staging challenges are to solve when you have the eye of a home stager!
It's not about how rich someone is.
I've staged very modest homes using only what a client already has. I've also staged homes over a million dollars that I'd never live in if I had to keep them exactly the way they were when I arrived.
What's the Worst Thing You've Seen?
Did you build your home staging portfolio with photos from your own home like I did when I started my own home staging business? What's the worst or most surprising thing you've seen in a client's home? Please add your comments below and feel free to share the link to this article in social media so we can get more stagers' input too!
Need More Home Staging Portfolio Tips?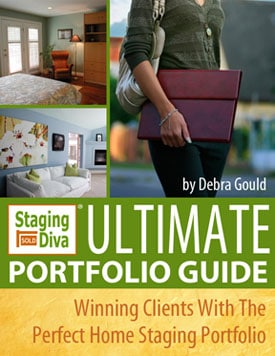 I hope you found this article helpful and it inspired you to "get out of your own way" and create your home staging portfolio this weekend.
If you'd like more help, the Staging Diva Ultimate Portfolio Guide will teach you how to:
Pick the best angle for better before and after photos
Edit your photos to fix lighting or other flaws
Get a great headshot of yourself even without hiring a photographer
Write about your talents and your business in a compelling
And more