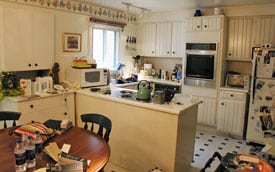 Are you putting off starting your home staging business because you worry you won't know exactly what to recommend once you get to your first home staging consultation? If that's the case, you're not alone. This is one of the most common reasons new and aspiring home stagers never get their businesses off the ground and I want to prove to you that this is nothing more than an irrational fear.
Anyone with an innate flair for interior decorating will instinctively know how to improve any room they walk into so it shows at its very best. To demonstrate that you do have what it takes to start a home staging business, I'd like you to study this picture of a cluttered kitchen. Now make note of all of the things that start to come to mind about how you would change this space if you walked into it at your first home staging consultation. Add a comment to this post with your staging ideas and you'll see that I'm right – you will have no problem making staging recommendations to your clients.
In a separate post I will share my own staging advice for this kitchen but in the meantime please share your thoughts by leaving a comment!
Debra Gould, The Staging Diva®
President, Six Elements Inc. Home Staging
Debra Gould knows how to make money as a home stager and she developed the Staging Diva Home Staging Business Training Program to teach others how to earn a living doing something they love. There are more than 4000 Staging Diva Students in 21 countries. Debra is frequently profiled in the media for her home staging expertise and is the author of 5 guides for home stagers.