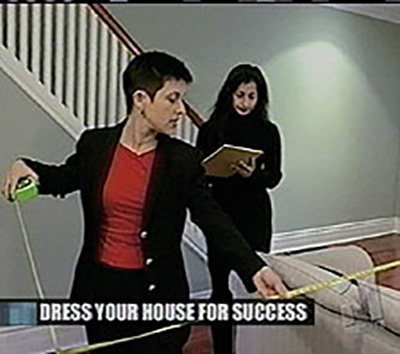 When you're new to home staging, it's easy to scare yourself with the belief that you must arrive at every home staging consultation as an "all knowing" expert.
Ready to deliver a total solution without a moment's hesitation or thought.
While this will happen in some rooms, some times, I don't believe it's the norm. I love this quotation from Pablo Picasso:
"I begin with an idea, then it becomes something else."
It really sums up my process for a home staging consultation, room by room. Sometimes I start with a recommendation in the living room, and as I build on it, another idea comes to me entirely. It doesn't mean I was "wrong" at the start, it's part of the creative process.
As Picasso says, we "begin with an idea," then we see where it takes us!
Home Staging Isn't What You See on TV
Don't let what you see on HGTV throw you off. Even in this video which is part of a larger clip I shot for a TV news show about home staging, you'll see me going from room to room, tossing out orders like, "get rid of this," "move that over there," etc.
What you don't see on camera is all the thinking time that happened between those directions! You also don't see the times I changed my mind about the home staging plan!
You Don't Need an Instant Home Staging Solution
I don't worry about having the perfect "solution" as soon as I walk into a room. I try on different scenarios in front of my client. This doesn't make us look unsure, it just lets others see our thinking and the process of creating.
Do you follow recipes exactly when you cook? I don't. If I've never cooked something before (for example a certain cut of meat), I'll read through a bunch of recipes to get a sense of how long it needs to cook and at what temperature, perhaps even what sorts of spices might be appropriate.
Then I put the books away and do something myself. Naturally no two meals taste exactly alike in my house, because I never measure anything!
To me home staging is a similar process. No two houses are exactly alike (if you're working with what your client already has). As you let the house speak to you, and you take in what the client has to work with, you'll gradually get a sense of what needs to be done.
It's not something you can "solve" in advance, because you won't know what you're dealing with until you get there.  As long as you have creative talent and vision, the solutions will come to you as you work through various ideas.
Have a home staging consultation process to follow and know what "tools" to bring

If you're a bit freaked out about what process to follow during your next home staging consultation, you might enjoy the Home Staging Consultation Checklist with Room-by-Room Client Planning Forms. It's really two products in one, designed to boost your profits, save you time, reduce your paperwork and make you look more professional!
In the first part, I guide you through what you need to know even before you set off for your client appointment. Things like what to bring, the process to follow during the home staging consultation and more.
In part two, I share a room by room checklist for what to look after in each room. You just fill in the blanks as you go, confident that you won't forget anything.
Do You Feel Like You Need Every Staging Solution As Soon As You Walk Through The Front Door?
Do you ever get intimidated before a home staging consultation thinking you need to be like those expert interior designers you see on TV? Whether you're new to home staging, or you've been at it for years, I'd love your thoughts in the comment section below!