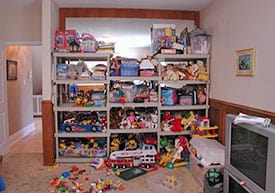 Your home staging portfolio is a critical part of marketing your services as a home stager.
Most clients are fine with the idea of you taking photos after you've staged their home. However, when you want to shoot the before staging images they often say something like, "Oh no, it's too messy. I don't want my home to be seen this way."
That's a problem for any home stager, because the strength of our home staging portfolio lies in capturing a dramatic before and after transformation and you can't do that without both halves of the pair.
How do you build your home staging portfolio in this situation?
One of the things I always tell my home staging clients is, "I won't use any of these pictures until your house is sold and no longer on the market. It won't even be your house anymore." That's an important distinction for them.
I don't use my home staging portfolio photos of a given property until after the house is sold.
We don't want a potential buyer to see our photos and think, "That's what it really looks like?" It ruins the magic of all the home staging work you've done. That's the same reason I tell my clients all the home staging should remain in place until after any home inspections or other conditions have been removed.
I always tell my home staging clients, "It's won't even be your house by the time I use these pictures. Don't worry, you'll be in your new home by then." This eliminates their fear that someone is going to say, "Oh my God! That's how they live?"
Have you ever had someone who thought their home was too messy for your before photos? How did you handle it? Please share your experiences in the comment section.
Debra Gould is the author of several guides, including the Staging Diva Ultimate Portfolio Guide: Winning Clients with the Perfect Home Staging Portfolio. A leading authority on making money in home staging, she created the Staging Diva Home Staging Business Training Program with students in 22 countries.