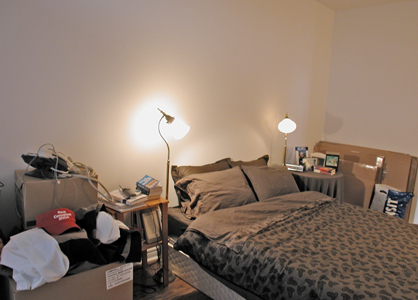 I recently featured a master bedroom in desperate need of help and asked home stagers for their tips when it comes time to decorate a house to sell.
This room is very typical of the problems you'll see doing a master bedroom home staging consultation.
I shot this photo in my own client's home.
You might be worried about doing your first consultation, that you won't know what to recommend.
The reality is that most people move into their home, plunk their furniture down and never get around to decorating.
When it comes time to put their home on the real estate market, they suddenly realize the current look won't attract buyers.
So here's what I recommended to this client in this master bedroom home staging consultation. You can use many of these tips too!
Move the bed into the middle of the wall and put night tables of equal height and matching lamps on each side of the bed.
The night tables don't have to be identical, though their style should be complementary. The matching height is key though so that one lamp doesn't end up looking taller than the other.
Different heights make the room look unbalanced and cluttered.
Moving the bed into the middle of the wall makes it more comfortable for a couple to imagine sharing the room. Not many adults want to crawl across a bed that's against a wall.

Raise the bed up off the floor by adding a metal frame under the box spring, or replace the box spring with a headboard/sleeping platform.
Adding a metal frame and dust ruffle to cover the box spring will be the least expensive solution.
If this was a second or third bedroom that belonged to a child or teen, the bed would be fine on the floor. But for a master, it's just not appropriate.
Make the bed a focal point.
The above suggestions will help make the bed more of a focal point, as it should be. The bedding in this case looks fine. I'd add some accent pillows to dress the bed more thoroughly.
One way to make do without a headboard (which would be more polished), would be to add artwork over the head of the bed.
One horizontal image with a width of 48″ to 60″, or two or three smaller pieces in a row will work. If you use two or three pieces side by side, use matching frames to pull them together.

Clean up the clutter.
It's not unusual to see piles of stuff on the floor, and even boxes in a room. Once you get out there as a home stager, you'll realize that almost no one lives in a house that looks anything like what you'll see in a magazine or any TV show or movie.
In fact that's one of the reasons people desperately need our help when it comes to home staging or interior redesign.
It's fine to have a few books on display, especially in a bedroom, but not a whole wall of them unless it's a huge room.
Though not shown in the above photo, dressers are often a dumping ground for too much stuff. Remove family photos, brushes, makeup etc. (to depersonalize the room).
Create a warm and relaxing setting appropriate to the price point of the home.
Home Staging Consultation Requires Trade-Offs
There is no end to how far you can take any room. The key is to stage the house in a way that's appropriate for the price range that the house is listed in.
If you are doing a home staging consultation for a house that is at the higher end of the market, then there should be more of a feeling of luxury.
If it's a very inexpensive home, you can still make it feel warm and relaxing, but you won't have to look like you spent as much on the contents.
The photo of the room above is from an inexpensive condo, which is why I'd leave the bedding as is but add some pillows to dress it up.
In a more expensive home I'd also recommend painting the room. White walls tend to look pretty cold and sterile.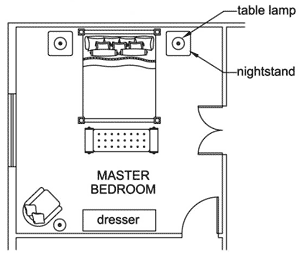 Here's a sample master bedroom floor plan from the Staging Diva Ultimate Design Guide: Home Staging Tips, Tricks and Floor Plans.
This is a comprehensive resource for home stagers who are completely new to the field or others who feel they need a bit of help with design principals and ideas.
The contents will also give you lots of ideas for interior redesign clients. If the bedroom you are staging isn't as large as the one in this floor plan, you can omit the upholstered bench at the end of the bed.
The Ultimate Design Guide also includes sample before and after photos from many of my home staging projects.
If you're curious about the approach I use during a home staging consultation, you can also check out the Staging Diva Home Staging Consultation Checklist with Room-by-Room Client Planning Forms.
Share your staging ideas for this master bedroom
Home stagers, what else would you recommend for the bedroom in the above photo? Have you run into similar rooms in your own home staging consultations?