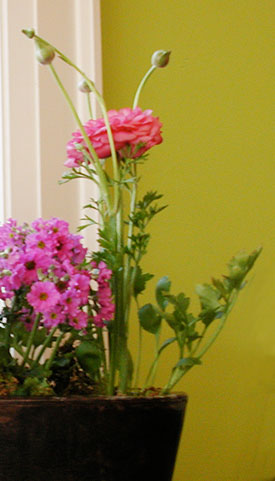 Since home staging is a completely unregulated field, some home stagers seem to think "anything goes." They'll steal portfolio shots off of fellow stagers' websites, Pinterest, Instagram, etc.
Others do things without really thinking through the ramifications.
I'm disturbed by the number of home staging websites using the same before and after images.
That's because many of these stagers have taken a program that includes being given a fake portfolio to help them get their business started.
Others, have purchased "stock images" to enhance the look of their home staging websites and marketing materials.
Using a stock image of a decorated room and presenting it as your own work misleads homeowners and real estate agents. Potential clients are purchasing our services based in no small part on the strength of our home staging portfolios.
We are selling our staging or decorating talents, so the before and after photos we present to them must absolutely be our own work!
This flower image is not a stock image, it's from a kitchen I personally staged. The project included doing all the flower arrangements for the house. This shot is a close up I took of one of my arrangements. It's the kind of photo I might include on SixElements.com (my home staging website).
What is a stock image?
An image, photographed and made available by someone else, and then rented or sold to third parties for their own use (generally marketing communications).
Some stock images are royalty free and therefore available without a fee.
Stock images (photographs and illustrations) have been used by major corporations and advertisers for years, long before the Internet made digital images available to the masses. It's an effective way to build your marketing message without having to budget for a professional shoot or professional illustration.
But, the stock images are not used to represent the actual product being sold, they are used in other ways.
For example, a beach shot to depict the prize you can win by buying the product. The product shot would be an actual photograph of the product being sold.
In this blog I use stock images to represent locations where I'm advertising for a home stager. I also use stock images on various pages on this website to convey an idea that I'm communicating.
I won't use stock images on my own home staging website. That's where I'm selling MY staging and decorating skills, so they don't belong there.
That's not the purpose of this Staging Diva website which is about the home staging industry and serves to educate both new and established home stagers, home sellers and realtors. That's why there are some stock images on this site.
When I'm blogging about a Staging Diva Graduate or showcasing their portfolio, then I use one of their own portfolio shots (and give them credit on the photo itself or within the article).
In the case of listings in the Staging Diva Directory of Home Stagers, all the photos must be the work of the home stager advertising.
Use of stock images to promote your home staging or decorating services
As professional home stagers we should not use stock photos of house interiors or exteriors in marketing efforts for our staging and design services.
I know many will disagree with me. Especially the people using them or making money selling them to others.
When we use an image that we've bought, begged or borrowed from someone else, we are implying (to potential customers) that it is our work because it's showing the service we are selling.
Home stagers establish trust and credibility
In a nation-wide survey of why people buy, "confidence in the company or their service/product," was the number one reason ("price" was down at number 5 in case you're wondering).
If a prospect assumes that all the lovely room shots they see on your site, brochure, etc. are your own work and they find out that it isn't, what does that do to your credibility?
If your brochure and front page of your site have gorgeous stock shots and then they go to your home staging portfolio and don't see the same level of quality, what do they think of your portfolio?
I think they'll very likely feel like they were getting sucked in by fancy packaging and there isn't anything beneath that. So, their confidence in you has just gone out the window.
Don't make your own home staging photos look worse
If you haven't bought my case for why using stock "decor" images is misleading, consider this…. your own portfolio of before and after photos can only look worse when you mix it in with professionally shot and styled stock images.
Because they're juxtaposed together, the contrast in quality is obvious. What might have been a perfectly acceptable portfolio on it's own now looks amateurish.
With every word and image you use in your marketing efforts, you are communicating who you are and what you offer. When there are inconsistencies you only lower the confidence others will have in you, making actually getting hired for your work, infinitely harder.
A realtor example
If a real estate agent runs an ad with a bunch of photos of homes with a SOLD flash across the picture and they were not involved in the sale of any of the homes, I would find this equally misleading.
Because they are implying that they had the listing or that they found the buyer for the home. The fact that some do it is not a reason to say everyone should.
If you were selling your car, would you run an ad with a different vehicle in the picture? And if you did, would the person buy the car when they saw the real thing?
Next Steps for Home Stagers
If you're selling your decorating talent and the photos on your site are of rooms decorated by someone else, this is misleading. That's why you shouldn't do it, plain and simple. No amount of rationalizing about how others do it, or how it's hard to get started, will change that.
I don't use stock images on my own home staging website (SixElements.com) and I don't provide staging portfolios as part of the Staging Diva Training Program. Though I do discuss how to go about building your first home staging portfolio as part of Course 2 of the program.
It can sometimes be tempting to take short cuts, but in the long run I believe it will hurt business.
What goes around comes around. At the end of the day, if we don't have our integrity, what do we have?
You'll enjoy these tips for creating your own home staging portfolio in a weekend!