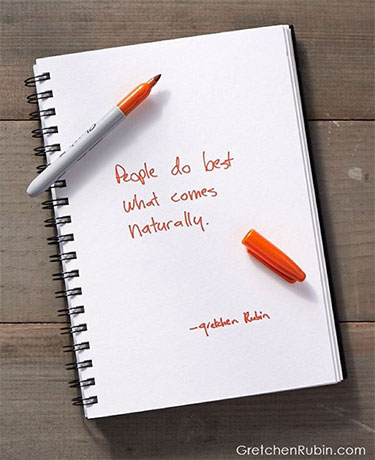 A home staging career lets you use your creative strengths and eye for decor.
Does your creativity have you feeling like a square peg trying to fit into a round hole?
Until I fully embraced my creative side, I always felt that way in my work.
There are many things I appreciate about getting older, like:
Caring less what people think.
Letting myself off the hook for stuff I'm not good at.
That's why I related so well to this quote from Gretchen Rubin that I found on Instagram.
She says, "People do best what comes naturally."
Forget About Focusing On Your Weaknesses
When you're going through school, everyone is trying to teach you to get better at stuff you're weak at.
One of the joys of adulthood is that you have the power to choose to focus on your strengths!
I'm terrible with accounting stuff. I can literally feel my life force draining out of me when I look at a spreadsheet.  As a home stager, I don't need spreadsheets because I don't have any of my own furniture or accessories.
And the tax stuff? I give it to my accountant!
Paperwork is boring and I have no interest in writing reports. I've deliberately structured my home staging business model to avoid the need for these. My Staging Diva students learn how to eliminate this too!
If you have a flair for design and decorating, then don't pack that away in the back of your heart and try and convince yourself that you'll be happy selling insurance.
Not that I have anything against people who do that. I just know it would be soul sucking for me and I've met many home stagers who feel the same way.
Other jobs they're happy to get out of before turning to a home staging career include: nursing, car rentals, and stock trader.
Simply put, you will do best when you're working from your natural talents, or "zone of genius" as Gay Hendricks calls it in his book "Take the Big Leap."
Everything is Easier When You Use Your Creativity
When you're doing what you love, you're not struggling all the time. You're embracing who you really are and what you're good at.
In other words, you're living from your strengths rather than burning your energy on what will never light you up.
My first sign that I might have superpowers when it came to color was when I was 8 years old.
My mother always had swatches of fabric in her purse from skirts that she'd had altered. At 5′ tall, everything she wore needed to be cut shorter.
Any time she was in a clothing store, out came the swatches so she could find blouses to match.
I never understood why she couldn't simply look at an item in a store and remember the colors of what she had to match. It would always be obvious to me from memory whether the red was off, or it was the wrong blue, etc.  I didn't have to memorize all the individual colors in her wardrobe, I just knew what they looked like because I had seen her rushing off to work in the morning.
I assumed everyone, except my mother, could remember colors or know which ones went together. Turns out they can't!
By the way, I can't fully explain how a color wheel works from memory. But that's never stopped me from choosing colors for a client.
I was even called "As color conscious as Matisse" in a magazine cover story years ago.
Once I became a home stager, I always marveled at how people lived with all their furniture in the "wrong" place. With rare exception, it was relatively easy for me to see where it all needed to be moved to for home staging.
How the couch in the middle of the room should move under the window. Or how the night table on one side of the bed in the master bedroom actually matched the one in the second bedroom.
How did my clients not notice that what was in their own room didn't match? Didn't it occur to them that their reading lamps were different heights on either side of their bed? Were they not bothered by the lack of symmetry?
Like most people, they didn't even notice! All they had was a vague awareness that something wasn't "quite right."
(Which makes me think of those puzzles as a kid where you have to notice/circle the upside down lamp or the missing leg on a chair, etc. I was always great at those, you?)
This is What Happens When You Do What Comes Naturally
Instead of feeling drained, you have energy. You excel because you're doing what you do best.
And you no longer feel like a square peg in a round hole. Instead, you have this certainty that you're exactly where you're supposed to be.
You're embracing your creativity and god given talent. Not leaving it to wither away while you force yourself to do all the things you're not good at.
Home stagers, do you have any examples to share of when you were doing best because you were doing what came naturally?
When you were feeling like you were in exactly the right place? Please comment below, I know your experiences will empower others too!
For more on this topic read the articles and comments over at Addicted to Decorating or Born to Be a Home Stager.