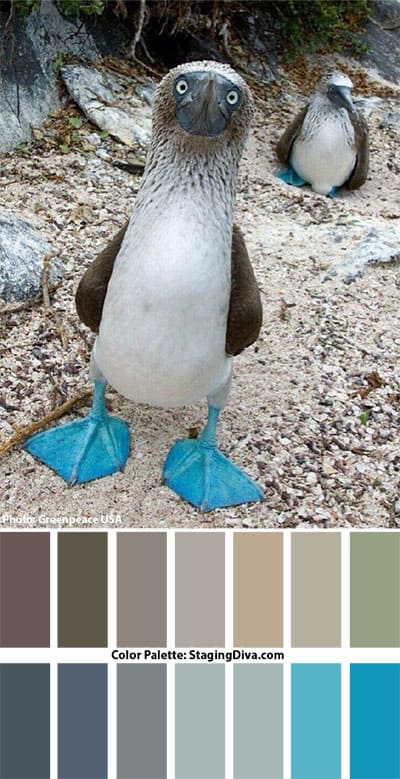 Home stagers, I'm so tired of one house after another filled with boring neutrals and nothing memorable.
It washes over me like a sea of nothingness.
I don't remember any of the rooms or the houses.
During a home staging consultation, we can be so afraid to take a risk. So we stick with whatever is safe and totally neutral.
It won't offend anyone, but it won't excite them either.
I found this photo of a "Blue-Footed Boobie" on Facebook, shared by Greenpeace USA.
He blends nicely into his environment, but what makes him so amazing,  lovable and memorable are his "blue suede shoes."
That goofy look on his face that seems to say, "this is me" and the pop of color make all the difference!
He inspired me to create this color palette for your home staging, interior redesign and color consulting projects.
The typical home buyer might tour 6 houses in a day. At the end, they'll try and remember what they saw.
If it was one big sea of beige, what will make one home stand out from another?
Boring won't sell your home staging services either.
Boring home staging won't help a property be memorable in a buyer's mind. The same thinking should be applied to your brand image or company personality.
Is there something you can do to make your business memorable?
Perhaps it's your home staging business name, or your logo.
Or maybe it's a particular marketing strategy that makes you stand out from the pack?
Perhaps it's how you communicate on social media or the home stager stories in your blog?
Beyond how you stage your clients' homes, or market your business, I also see an analogy for how we live our lives.
Women, especially, are often raised to be people pleasers.
While we're not all walking around in white gloves, pretty dresses just below the knee, and shiny high heel pumps the way many of our mothers did, there is still a lot of pressure to conform.
To not rock the boat.
To not let our own needs, talents and desires shine.
So we dull ourselves down not to stick out.
We play small and "follow the rules."
We put everyone else's needs ahead of our own and do what others expect of us.
If you never dress, say, or do anything that others might object to, you probably won't have "haters."
But you also won't have raving fans or a business that reflects your purpose and passion.
Please add your thoughts in the comment section and share this post in social media if it struck a chord with you.
Debra Gould, The Staging Diva®
President, Six Elements Home Staging and Voice of Possibility Group Inc.
Debra Gould knows how to make money as a home stager and she developed the Staging Diva Home Staging Business Training Program to teach others how to earn a living doing what they love. There are over 10,000 students in 23 countries learning her home staging business model. Debra is the best selling author of 5 guides including Staging Diva Ultimate Color Guide: The Easy Way to Pick Colors for Home Staging Projects.