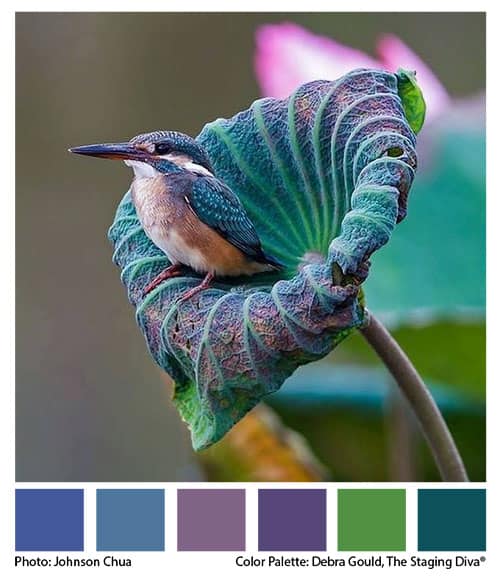 So many people fret over how a color wheel works. They think this "knowledge" will make it easier to choose colors for their next decorating or home staging project.
Color inspiration comes easily from nature.
Taking a walk in a garden, by the beach or through a forest, you can't help but get inspired by nature's gifts. The subtle play of one tone beside the next. The gorgeous contrasts. it's all there for the taking. It's the quickest and easiest way to an inspiring color palette, and to know that the colors work together.
Staging Diva Grad Mary Ann Benoit, of Northern Lights Home Staging found this awesome photo of a hummingbird by Johnson Chua in Focus Magazine on Facebook.
I was so taken with the wonderful colors I decided to fool around with it on my computer and see if I could "sample" some of the colors from his photograph and show how they can make up a color palette for a decorating project.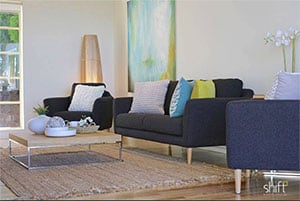 Not long after that, I saw a Facebook post by Staging Diva Grad Adam Luttrell of Shift Property Styling.
By pure serendipity, his latest home staging project in Tasmania is such a wonderful example of the very color palette I had just created from the photo!
I've been watching Adam's business grow in the 9 or so years since he took the Staging Diva Home Staging Business Training Program. I think it's pretty cool that we were working on similar colors from opposite ends of the planet!
So many beautiful colors where do you stop?
I could have gone on for hours picking more and more colors from Johnson Chua's photograph. I had to stop myself at these 6 ideas. Now I'm wishing I'd also sampled that brilliant turquoise on the right. And the more subtle pinky-orange just below the bird's wing.
To be honest, I had forgotten the visceral pleasure I get from playing with color. It lights me up!
Here are two ways you can combine the colors in the palette I've created above.

By the way, you might like these combinations for decorating. Plus, you could also use them for your branding.
In a previous article I talked about the importance of choosing a personality for your company. Your choice of color is one of the most important components of this.

Just as color sets the mood in a room, it also sets a "mood" for how your company or brand is perceived.
That's where you need to put your marketing hat on and think about your target audience for your home staging, redesign and color consulting services.
I used to design and hand paint floorcloths and home accessories. The Debra Gould Home Collection was featured in books and magazines. This was a great joy to me because I'm an entirely self-taught artist.
And no, I can't rattle off the theories built into a color wheel. I choose colors purely by instinct.
One thing I learned through trial and error while painting floorcloths, was that groups of three colors worked really well.
Not surprising, groups of three work well in objects on display too. The "rule of three" is one of the many topics I cover in the Staging Diva Ultimate Design Guide: Home Staging Tips, Tricks and Floor Plans.
How do you choose color palettes?
Please share in the comments how you come up with your own color palettes. Do you study color wheel theory or operate more by instinct like I do? There's no one perfect solution, so I love to learn from you too.

Debra Gould, The Staging Diva®
President, Six Elements Home Staging and Voice of Possibility Group Inc.
Home Staging expert Debra Gould knows how to make money as a home stager and has taught over 9000 students how to do the same. She is the author of several guides including the Staging Diva Ultimate Color Guide: The Easy Way to Pick Color for Home Staging Projects.