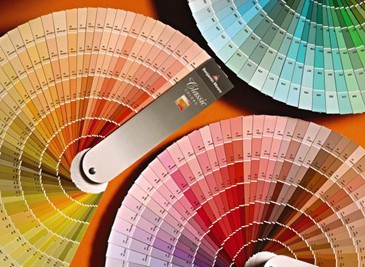 Recently I wrote an article that advised tossing the color wheel and choosing your colors from nature.
This is especially true of decorating projects where you can be more bold in your color choices.
For home staging projects, we tend to stick to neutrals.
You don't need to know the finer points of color theory to flip through the Benjamin Moore® fan deck and choose appropriate neutrals.
I say Benjamin Moore because that's what I generally use. Their paint is widely available in both the US and Canada.
In Europe, you might consider Farrow & Ball® which has nice soft chalky colors.
Farrow & Ball organizes their neutral paints into 6 categories:
Traditional Neutrals
Contemporary Neutrals
Red-Based Neutrals
Yellow-Based Neutrals
Easy Grays
Architectural Cool
How handy is that?
Both companies have fan decks that are easy to work with.
In North America, Farrow & Ball paints have more snob appeal and are less readily available than Benjamin Moore.
They are also more expensive, which is why I personally don't use them.
Even if your client wants to use another brand of paint, big stores, like Home Depot, can mix a Benjamin Moore color match in another brand. All they need is the color number to work from. I'm not sure if this is also true for Farrow & Ball paint colors.
Some home staging clients will be reluctant to paint a home they're selling. The truth is, painting a room is the easiest, cheapest and quickest way to transform it.
With paint and a few accessories you can transform a kitchen or bathroom from a potential buyer thinking, "I'll need to tear this out immediately" to "This is nice. I can live with it and renovate later."
As you can imagine, the "tear this out" idea dramatically lowers any potential offer on a home!
So while painting may at first appear as an unnecessary expense, it's actually a relatively inexpensive investment in selling a home more quickly and for top dollar.
Now that you know more about conducting your home staging consultations, from the many previous articles I've written on this subject and Course 3 Taking the Mystery Out of Home Staging Consultations, have you thought about how you will provide color recommendations for your clients' homes?
As a home stager with a registered business, you'll be able to approach paint companies to request your own designer's kit.
These kits typically include 2,000 to 3,000 colors grouped into fan decks and organized by group or collection (as you can see in the Benjamin Moore photo above).
How I Choose Color for Home Staging Projects
I always wait to give my color recommendations until the end of the home staging consultation because it's much easier than having to mentally switch back and forth between talking about furniture placement and color choices.
I put away my tape measure and get out my fan decks and go room to room, focusing only on what colors to use.
For home staging purposes, I generally use a maximum of 4 or 5 colors, even in a large home, because the same color will look slightly different in rooms of different sizes and with different lighting.
It's also faster and cheaper for your clients to paint with fewer colors since the painter won't have to keep cleaning brushes and trays and can just jump from room to room.
The prep in one room dries while he preps the next room in the same color. Then he can switch back to the first room and on and on. It's a real time and money saver because it's more efficient.
Generally, I stick to fairly neutral tones for home staging, but not always.
For example, several years ago, I staged a kitchen that was very 1980s with a black and white tile floor, grey high-gloss flat cabinet doors with no hardware, and mirrored back splash.
There was no budget or time to replace the more expensive items, so I went to work with color.
We added molding and hardware to the cabinets, and they were painted a warm but light olive grey, while the wall at the back of the kitchen was painted a deep clay red.
The addition of a restaurant-style blackboard created a bistro feeling and complemented the black and white floor.
When you first receive your full designer's kit from a paint manufacturer, it can be very intimidating.
With a number of fan decks and over 2,000 colors to think about, many home stagers find themselves wondering, "Where do I start?"
That's why after two years of using the kit and staging hundreds of homes, I spent several days going through it and coming up with my favorite colors to use for home staging, based on all the homes I've staged.
I also grouped these 80+ colors into color palettes to make it easier to know what groups could be used to paint an entire home.
I've put all this and more into the Staging Diva® Ultimate Color Guide: The Easy Way to Pick Color for Home Staging Projects.
The Guide also covers:
How and when to discuss color during your home staging consultation
What to do about ugly wallpaper
When to use what sheen level
What colors to use for walls, trim, floors, decks, ceilings, porches, stairs and front doors
15 Staging Diva Home Staging color palettes
Specific Benjamin Moore color names and numbers (U.S. and Canadian versions)
How to use this information when purchasing any brand of paint
How to find your local Benjamin Moore paint dealer
Getting your own Benjamin Moore Designer Kit
How Do You Choose Home Staging Colors?
Home stagers, how do you choose colors for your home staging projects? What brand of paint do you recommend? Please share in the comments below.

Debra Gould, The Staging Diva®
Home Staging expert Debra Gould knows how to make money as a home stager and has taught over 10,000 students how to do the same. She is the author of several guides including the Staging Diva Ultimate Color Guide: The Easy Way to Pick Color for Home Staging Projects.