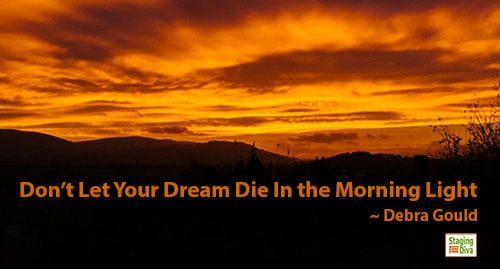 I've been supporting myself from a home-based business of one kind or another since 1989. Which means I've kept going through my 30s, 40s and now into my mid-50s.
I started or grew businesses during two severe recessions, a few health crises, various house moves and mortgages, and the birth (and raising) of a child on my own.
I've never had a husband to pay the bills. It's always been on me to keep a roof over our heads.
So when aspiring home stagers tell me (as they make an excuse for why they can't succeed), "It's different for you, you're the Staging Diva," I'm here to tell you, it wasn't always that way.
There were never any guarantees that I wouldn't fail. I never know how any decision will work out. None of us do.
Some of my choices were better than others.
My worst business decision was the time I moved to a new city and rented an artist's loft. It was a commercial space and I imagined that I'd be able to cater to decorators and interior designers. I made a grand total of $600 in 6 months! When I was selling my art from the basement of my home in a city one tenth the size, I could make that in an afternoon.
Looking back, I realize that "disastrous" move was essential to where I am today.
It required that I flip my house quickly. That's when I finally stopped taking my home staging talents for granted.
I don't think I ever would have started a home staging business if I hadn't gone through that. And if I hadn't become a home stager, I never would have become the Staging Diva.
Which means I never would have found my path as a mentor and teacher for others.
Last week, I was honored to have 6 wonderful Staging Diva Graduates on our monthly Staging Diva Dialog call. Members say it's "the water cooler for home stagers." I totally love that, because sometimes it's isolating working on your own!
We have very candid conversations about the business of home staging. We share challenges and solutions. We cheer each other on. And, I'm bursting with pride when I hear what everyone is up to in Alaska, California, Florida, Ontario, Australia, and many points in between.
Two of the members shared their business results. One has only been a full time stager for 7 months and realized when he did his taxes that he made more as a stager than he did in a whole year in a career that he'd nurtured for 20 years.
Another shared that she's on track to make $7,000 to 8,000 this month. She's been a full-time home stager just over a year.
Both of them have been Staging Diva Dialog members throughout that time and both have consistently taken action on what we've discussed each month. I vividly remember when they first joined our monthly calls and they were worried about whether they'd ever succeed.
They felt like they were pushing a boulder uphill. Which is exactly how it feels when you start a business!
If it was easy, everyone would do it. Most people give up on their dreams before they've ever started. Or they give up at the first sign of work.
That's the biggest "barrier to entry" of being a successful home stager.
Because it costs next to nothing to get into this business when you follow the business model I share in the Staging Diva Training Program. It's not about having enough money to get into the business. It's not about having enough time.
It's about having the courage to follow your dreams even when it feels hard. It's about realizing you finally have a vision worth fighting for.
Don't let your dream die in the light of day. If you were blessed with creative talent, don't squander it.
Don't sit around watching HGTV and screaming "I could do that!" Get up off the couch and do it.
Help Inspire Other Home Stagers
Home stagers, please share in the comments section how you've taken action to realize your dreams. I know you'll inspire others who have been too afraid to try, or who are in that crucial moment when it's getting hard and they're second-guessing their decision to start.
Debra Gould, The Staging Diva®
Debra Gould is a single mom and creative entrepreneur with a passion for helping others create their ideal business and lifestyle. She started the Staging Diva Home Staging Business Training Program to help anyone with decorating talent learn how to make money as a home stager. There are over 10,000 students in 23 countries using her staging courses, guides, checklists and more.