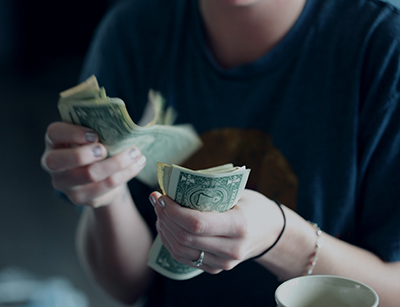 Home staging is an extremely lucrative career when you know how to properly charge for your services. Today I'm diving into a taboo topic: How Much Do Home Stagers Make?
It makes me cringe when I hear figures as low as $30 per hour being touted as 'great income' for home staging.
That is an impossibly low rate for any independent professional to charge.
An expert home stager should make at least double if not four or five times that amount.
Home sellers stand to profit anywhere from $10,000 to $75,000 after employing the services of a home stager. When they understand that payback, they're willing to pay a premium for the right expertise.
When you offer the cheapest home staging in town, you attract clients who don't value what a home stager does.
The knowledge of an expert home stager is extremely valuable. It affects how long a home takes to sell and the final selling price.
A two-hour home staging consultation should cost anywhere from $300-$800. More if it's longer than 2 hours and you're following the pricing strategy I teach in the Staging Diva Home Staging Business Training Program.
After the initial consultation, a home stager can make at least $1,000 if the client wants the stager to complete the home staging project for them. This figure can go as high as $5,000 to $10,000 depending on the needs for that property, the home stager's expertise, and where they live.
Typically costs will be higher in major urban centers where house prices are also higher. If the home stager has to furnish and/or accessorize the home, that price can creep even higher.
Home Stagers Should Not Be Low Income Workers
Now back to why I object to anyone advertising $30 as a good income for a home stager. It completely devalues what we do and the difference our work makes to a client. Not only that, it misleads aspiring stagers into believing that this is a good home staging income.
Let's explore how to charge for home staging!
Even bumping that pay from $30 up to $40 per hour, if you do 3 two-hour staging consultation each week, that works out to $240 per week or roughly $960 per month. If you also do 3 "full-blown" staging projects each month which each take you five hours, you can make an additional $600.
That's an unimpressive $1,560 per month or only $18,700 per year.
Depending on where you live, that amount would classify you as part of the "working poor." It's about what you'd make in a call center or asking "would you like fries with that?"
When you're self-employed, you have lots to do that you don't get paid for. For example, talking to prospective customers, browsing stores or websites for the latest design trends, doing your paperwork, etc. So when you are working on a client's behalf, you need to make sure you are well paid for it.
How Much Do Home Stagers Make?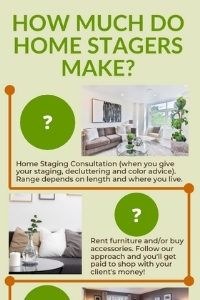 If you charge a rate of $300 per two-hour home staging consultation which is still at the lower end of what a Staging Diva Professional Home Stager would charge, those same 3 staging consultations a week will give you $900 per week or $3,600 per month.
Those 3 "full-blown" staging projects per month will give you another $2,250 per month. Between both, that's a total of $5,850 per month or $70,200 per year.
That's $70,200 per year versus the $18,700 you would make at $40 per hour.
I've done some additional calculations that you can see in my new FREE Tip Sheet: How Much Do Home Stagers Make?
If you want to grow a profitable home staging business rather than dabble in home staging as a hobby, you have to charge a fair rate for your services and not be duped into thinking $30 is reasonable.
I can't fathom a home stager charging anything close to $30 or even $40 per hour unless they are working full-time for another company who will be reselling their services at the more appropriate rate.
Advertising a home staging hourly rate of $30 does nothing but devalue the service. As a home stager, you're operating a business. Can you possibly sustain (let alone grow) a successful business of any kind at such a low hourly rate?
When you're operating a service-based business, time is your product and we are all only given so much of that each day!
I encourage home stagers to reply to this post so that we can all raise the standard of what's acceptable and expected in the home staging industry.