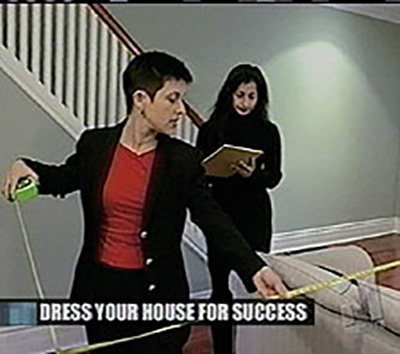 I've been in the home staging industry since 2002, so I get countless requests from creative people who are looking for a home staging internship.
Staging Diva operates the only worldwide Home Staging Job Board. This as a free service I offer because I get tons of email from people all over the world looking for a local home stager.
With thousands of Staging Diva Grads happy for local job referrals, how could I not put them together?
I'm tremendously loyal to my students, so I'm happy to recommend them to people who want to hire them!
It would be another huge project to play matchmaker to anyone wanting to be a home staging intern.
And guess what?
In all my years in this industry, I've never had a Staging Diva Grad ask if I can find them a home staging intern.
In this article you'll learn why no one is asking me for interns.  And, whether it makes sense for you to pour your energy into becoming one.
Why Do You Want to be a Home Staging Intern?
Well-meaning people (and business coaches)— who know little about the home staging industry— often recommend looking for a home staging internship.
It seems so obvious, right? Especially when you don't know any better.
Most of the emails I get from people looking for a home staging internship start like this:
I'm really interested in becoming a home stager and hoping you can recommend me to someone in my area who is looking for a home staging intern.
Perhaps they're wondering if they'll enjoy being a home stager and view internship as a way to test that out.
Maybe they're looking for a way to boost their confidence before (or instead of) investing in home staging training.
I understand and empathize with both those reasons.
Why Most Home Stagers Won't Offer Internships
Consider what "hiring" a home staging intern means from a professional home stager's point of view.
Unless your ultimate goal is working for free as a home staging intern, after you've gained an inside look at their business, you'll be moving on.
In other words, they know that once you're more confident in your abilities, you'll likely become their competition.
Why would they take the time to interview you or spend their valuable time teaching you about their business?
Especially if you haven't invested in home staging courses.
From Working for Free to Paid Assistant
Perhaps you're hoping that after being a home staging intern, a professional home stager will pay you to be their assistant.
Some staging companies hire teams of home stagers, especially the larger ones.
However, most (like my own home staging company) operate as a single-person business.
Rather than taking on unnecessary fixed costs and obligations, professional home stagers typically hire assistants as-needed on an hourly basis. This often costs them only $15 or $20 an hour, when the home stager is earning ten times that!
Home staging assistants don't need prior experience as an intern because they'll do things like: steam wrinkles out of bedding, roll towels, and hold up art so the stager can decide where to hang it!
Why I Don't Recommend Home Staging Interns
The main reason I don't play matchmaker for home staging interns is I believe it's a waste of everyone's time.
If you really want to work for a home stager, don't write to me. Google home stagers in your area and reach out to them directly.
These are busy business owners and they need to know why they should take the time to evaluate you.
Explain how you'll be an asset to their business. And don't short change yourself by offering to work for free. Offer your services as a paid assistant! Demonstrate that you understand this will be part-time and as-needed.
You're not looking to be hired as a home stager's employee.
I understand you want to be an intern to see if you like home staging, or to boost your confidence, but there are better ways to do that.
With the right home staging business model, you can skip being a home staging intern and you can skip being a paid home staging assistant for $15-$20 an hour.
Instead, you can become a home stager in your own right— earning $150 to $700 (or more) simply from home staging consultations. Then there's the even higher income that can be made staging vacant homes.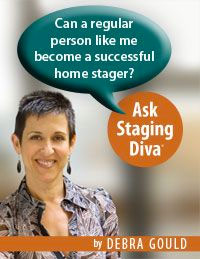 You'll enjoy this FREE report, Can a Regular Person Like Me Become a Home Stager?
In this report, you'll meet 10 Staging Diva Professional Home Stagers and read their behind-the-scenes stories of how they got started, without ever being interns or home staging assistants!
Staging Diva Graduates learn exactly what they need to know to get started. They don't work for free, and make back their investment in my home staging courses with their first home staging project or two.
I hope I've demonstrated here why being a home staging intern isn't the way to know for sure whether home staging is for you, and it will waste your time.
What have you got to lose by jumping into home staging? Read this article for the worst-case scenario 🙂
P.S. That photo at the top of this post is of me doing a home staging consultation on a TV news show.