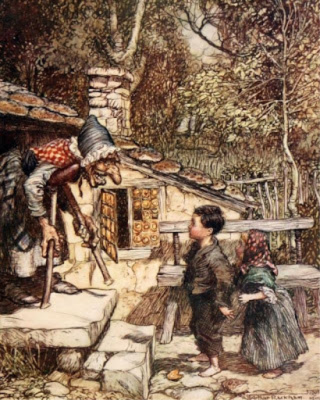 Many home stagers have faced the dreaded question, "Can you wait until closing to get paid for your home staging services?" How you answer that question will have a big impact on how long you remain in your home staging business.
You'll hear this question mostly from real estate agents.
There you are, a brand new home stager. Anxious to please the real estate agents who you imagine will be sending plenty of clients your way in the future.
They seem to like you and admire your talents. Your ego gets a bit of fluffing.
Then they say, "We wait until closing to get paid, it's only fair that you do too. Besides, you'll be making so much money because we'll be sending you 90% of our listings!"
It's a bit like the wicked witch luring the hungry Hansel and Gretel into her gingerbread house with promises of lots of goodies to eat. You might remember the witch had another agenda, driven by her own circumstances.
Now I'm not saying all real estate agents are wicked witches waiting to fatten you up and eat you, but I think the metaphor holds in many cases.
After all, real estate agents can show hundreds of homes before getting paid. They sometimes carry real estate listings and promote them for months on end, only to see the home seller pull the listing off the market. Meaning they don't get paid for all that time and effort.
Let's face it, that's a really crappy business model unless you're a well established real estate agent in a very hot real estate market. That's why most real estate agents earn less than the college-age kid managing the local McDonalds®!
Why so many people want to become real estate agents is another question, but beyond the scope of this post.
My point is, just because real estate agents have a challenging business model, doesn't mean home stagers have to fall into the same trap!
5 Reasons Home Staging Not Like Real Estate
Home staging is a completely unregulated and relatively new industry. This means YOU get to make your own rules about when and how you get paid.
Here are 5 reasons you don't want to wait until closing to get paid the way real estate agents do:
1. The home might be pulled off the real estate market before it sells. What does that do to your home staging business income?
2. When you do a top notch job at home staging, why shouldn't you be paid for that? You have no control over most of the variables that determine when, and if, a house will sell. Waiting to get paid until closing means you many never collect.
3. Your funds won't be held from the proceeds of the sale at closing the way a real estate agent's commissions is. How do you know you'll actually get paid at all? And what recourse will you really have if you don't get paid in the end?
4. Because real estate agents never get paid for a lot of the work they do, they earn more in situations where they are able to close a deal.  In other words, they are compensated for all the risk they take on. As a home stager, you're not earning anywhere near that 2% or 3% commission on the selling price of the home, so why should you accept all those inherent risks of nonpayment?
5. If you started your home staging business because you want to earn a great income and you need cash flow, then don't tie up payment for months or years. Get paid immediately (and get paid well) upon services rendered. At least that's what I teach all my Staging Diva Home Staging Business Training Program students.
Home Staging Business Needs a "Bird in the Hand"
Remember that old expression "a bird in the hand is worth two in the bush"? This totally applies here. You might not earn a percentage of the selling price of a home, but as a home stager you can earn anywhere from several hundred to several thousand dollars from each home staging client. And you don't have to wait to get paid until closing! Is it any wonder so many real estate agents are becoming home stagers instead?
I hope you'll do your home staging business a favor and just say "no" the next time a real estate agent asks you to wait until closing to get paid.
And that promise of getting 90% of their listings? This may or may not happen. But who is to say how much home staging business that actually represents for you, or whether it's the kind of business you'll even enjoy. In a future column I'll share what it might look like to be dependent on a single real estate agent/broker for the bulk of your revenue.
I am not a real estate agent because I never wanted to be on call 24/7 the way agents are. Being a home stager gave me a higher income, the real estate buzz I craved, and means I only have to go to an open house when I wants to.
Please share in the comments whether you've ever been asked to wait until closing to be paid for home staging, and how you handled it. I'd also love any questions related to this topic so I can cover them in my next article.
If you know any home stagers struggling with the question of when they get paid, perhaps you can share this article with them via Facebook or Twitter using the sharing links below.
Illustration Credit: Grimm, Jacob and Wilhelm. The Fairy Tales of the Brothers Grimm.Mrs. Edgar Lucas, translator. Arthur Rackham, illustrator. London: Constable & Company Ltd, 1909.