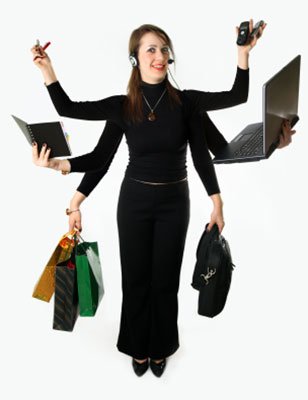 You started your home staging business so that you could make a living doing what you love.
If you're tangled up in too many tasks that are keeping you from that goal, it's time to re-evaluate how you're running your business.
In a recent article about too many home stager to do items, I shared that I was an information hoarder.
It's the biggest source of clutter in my house. Mostly piled on my desk— not motivating!
The article generated a lot of comments from our Staging Diva community.
Some were around the issue of having no one to delegate to when you're running a solo home staging business.
It doesn't have to be that way.
Business Delegation is For Home Stagers Too
You can delegate stuff you don't want to do, or that's too difficult.
Caution: Don't delegates stuff that shouldn't be done at all!
Here are my delegation tips:
1. Identify What You Don't Like to Do
What do you hate doing? What drains your energy? What triggers you to procrastinate?
These could be:
Make a list of all these items, especially the recurring ones.
If it's something you only do once a year, it's not an especially big deal. I hate gathering all my expense receipts, bank and credit card statements for my accountant. I only do this at tax time.
But if an energy draining item is sitting on your desk, or taking up "worry space" in your brain on a regular basis, put it on the list!
Don't worry if you don't know how you'll change the situation right now. This step is just about identifying the problem.
2. Determine What Home Staging Business Tasks You Can Eliminate
Now that you have a list of the items that are draining your enthusiasm for your home staging business, ask yourself which ones can be eliminated immediately.
You might decide to eliminate something because after doing it for awhile you realize it's not that helpful. Or it doesn't add value to your business.
This might include social media accounts like Instagram (which doesn't drive traffic to your website) or something bigger like writing home staging consultation reports!
Have you heard about the Pareto Principal, also known as the 80-20 rule?
Roughly, 20% of your activities are contributing 80% of your income. The trick is identifying which ones and doing more of those.
Look at each item from your list in step 1.
Be honest with yourself, would anything change if you stopped doing this thing? Would your profit or customer service suffer?
If the answer to these questions is "no", then drop it.
Don't rationalize why you "should" keep it (even if you believe all other home stagers are doing it). Let it go.
For example, one of the things I always hated was coming home with a fist full of business cards from a networking event and then having to input the contacts into my database.
The stack of business cards sat on my desk for months. The pile (and my dread) getting bigger and bigger with every event.
Now I only take business cards from people I absolutely want to stay in touch with. If I find myself accepting a card just to be polite, I throw it into the recycling bin as soon as I get home.
I also don't input the information anymore. I take a photo of the business card and file it in EverNote.
Or I don't take a card at all and instead have the person input their own information into my phone while I'm still at the event!
Perhaps your dreaded task is writing up a home staging consultation report after you've finished your client meeting. In the Staging Diva business model, this task is eliminated.
We don't write these reports, except when a client wants to pay a few hundred dollars more to get one.
Then it's not as much of a dreaded task. We don't do them that often and we're getting paid extra for our time to write it!
Free home staging estimates are another prime candidate for the "stop doing" list.
These are a time sucking trap that rarely leads to paying clients. 90% of home stagers do free home staging estimates because their training program told them to. Staging Diva Graduates know better, it is NOT part of our business model!
Learn more about my home staging courses here.
3. Get back in touch with the joy
You need to be getting as much joy out of running your home staging business as possible. At least that's my perspective on being your own boss!
Don't automatically assume you have to keep all the items on your list of stuff you don't like doing. Some of it will be ripe for delegation, but some of it can just be eliminated.
After all, what's the point of delegating something that doesn't need to be done at all?
Next time, I'll share the next 3 tips for delegating. In the meantime, let me know if these tips help and share in the comments any others you have found.
Perhaps I can roll these into the next article in this series!