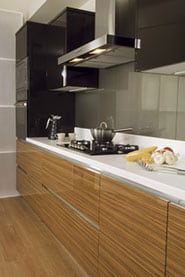 A home stager's LinkedIn complaint that the home staging business cards and flyers she left at a client's home had been put in a kitchen drawer during showings inspired me to share my opinion on when it's appropriate to advertise our home staging services.
See if you agree, and I welcome your thoughts on this subject!
I don't display my business cards or marketing material during real estate showings or open houses because I don't believe it's in my client's best interest. This is especially true in a resale home.
It's not appropriate to remind potential buyers that the home they're visiting has been decorated to sell faster and for more money. Simply put, if you remind them the home is staged, the home staging might not work as well!
This observation might invite accusations from non home stagers that home staging is an evil trick to manipulate buyers and disguise actual flaws.
That's not what I'm saying.
Buyers make decisions for emotional reasons (as much as they'll try and justify them later with rational arguments). This is true of real estate buying as well as almost anything else.
That's why sales and marketing need to have an element of romance.
Staging a home showcases its best features, and can help potential buyers fall in love and make an offer. It's not any different or more manipulative than car ads that show a happy family going on a road trip, or buying a new suit to make a good impression in a job interview.
Home staging magic
While marketing your home staging services by leaving your cards on the kitchen counter is a tempting way to sell your services, it simply ruins the "magic" in my opinion.
It would be akin to a makeup artist appearing onscreen as a starlet walks the red carpet saying,  "She doesn't look like this when she wakes up in the morning."
What do you think about displaying your home staging business cards during a real estate open house and showings? Please share in the comments below!
---
With an MBA in marketing and hundreds of home staging clients, internationally recognized home staging expert Debra Gould, The Staging Diva, is uniquely qualified to train others how to start and grow a profitable home staging business. With home staging students in 22 countries, she is the author of several home staging guides.