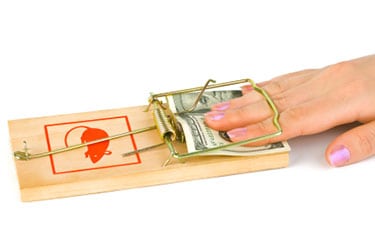 It begins innocently enough. A potential home staging client calls and asks "how much does home staging cost?"
If you follow what most home staging courses tell you, you'll reply with something like, "I'd be happy to come over and do a free home staging estimate for you!"
Many home stagers fall into the trap of doing free home staging consultations because they've been disguised as free estimates.
This is a short road to burn out and financial ruin!
You'll spend hundreds of hours, and hundreds (if not thousands) of dollars in gas over the year, driving from house to house for potential clients who may even know in advance they have no intention of ever hiring you (regardless of your estimate).
Lots of people are just looking for free home staging advice. As soon as you agree to go see them to look around and tell them how much staging will cost, you've fallen into what I call the "free estimate trap."
It's not a pretty place! You'll arrive at their door, filled with hopes of paying work and the best of intentions, only to be peppered with questions like:
"What color should I repaint this room?"
"Do you like the sofa on this wall?"
"Would you furnish this room or can I leave it how it is?"
"Should I replace this carpet with a floating floor?" and on and on.
It's very hard to refuse to answer these questions reminding them you are just there to provide a free home staging estimate.
After all, you're trying to build a rapport and hoping if you impress them with your knowledge they'll agree to hire you.
Every time you agree to do a free home staging estimate, that's probably 2 to 4 hours that you've used up and will never get back. That's time you aren't selling to someone else.
You may be thinking, "I only spend 20 minutes on these, so it's no big deal!" You may only spend 20 minutes in their house, but how much time did you spend:
– on the phone booking and/or re-booking the appointment
– putting your makeup on and deciding what to wear
– figuring out how to get there
– organizing what you'll take and rehearsing what you'll say
– driving to and from the appointment (possibly getting lost or being stuck in traffic)
– preparing an estimate
– typing up the estimate, worrying about your formatting, spell checking it, second guessing yourself, etc.
– sending the estimate
– repeated follow up to see if the prospect got it, whether they've made a decision, etc.
The key to avoiding the free home staging estimate trap is to build that rapport and impress the prospect with your knowledge over the phone.
You need to know what to say when someone asks, "I'm thinking of staging my house, how much does it cost?"
If you say the right things, in the right way, and in the right order, they'll agree to booking a paid home staging consultation with you at the end of that conversation, even if you're one of the most expensive home stagers in your area and they've never met you in person before.
With a script of what to say, you can stop falling into the "free estimate trap" and make sure your valuable time and expertise are being used with paying clients. In the new Staging Diva Sales Script: How to Avoid the Free Estimate Trap and Turn Homeowners Into Home Staging Customers in One Phone Conversation I share exactly what I say word for word to turn prospects into paying customers even when they've never met me in person before.
Learn what I said to homeowners that got me from zero sales to $10,000 a month in my second year as a home stager.
Debra Gould, The Staging Diva®
Entrepreneur and Home Staging expert Debra Gould, The Staging Diva, knows how to make money as a home stager. Discover her secrets to business success in the Staging Diva Home Staging Business Training Program.