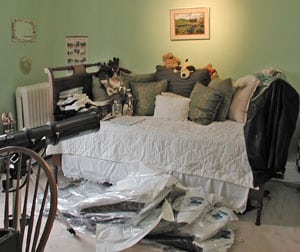 As a home stager you've probably run into the treasured collection of decorative plates, figurines or stuffed animals during a home staging consultation.
The stuff your home staging client loves (or believes they can't live without) but you know will look like clutter to potential buyers.
Then there are the collections of half-filled shampoo bottles, old toothbrushes, clothes they've grown out of and crafts projects. And if you're at my mother's house (or anyone else who was born or lived through the Great Depression), you'll likely find dozens of bags of empty bags, strings, elastics and more!
The trouble with all this "stuff" is that it distracts others from appreciating the house itself and can easily cause a potential buyer to reject the property because they believe it's too small.
This cluttered extra bedroom is from the first home staging consultation I did in early 2003.
In any home staging project, we're trying to portray the ideal lifestyle that could happen in this house. We want potential buyers to fall in love with the dream and aspire to live there.
Let's face it, many people move because they feel too over-crowded in their current homes. Looking at properties where almost every horizontal surface is covered with piles of stuff just reminds them that they'll be just as crowded in this property.
You may or may not have the motivation, energy or interest in helping your home staging clients go through all their stuff, item by item. Many home stagers combine a staging business with an organizing business.
I will sometimes look in a closet during a home staging consultation and tell the client, "50% of this has to go." I really don't want to personally go through each item with them and will recommend a professional organizer if this is the kind of help my client needs. Other clients are perfectly capable of getting rid of the stuff on their own when I give them some tips for getting it done.
7 Clutter-Busting Tips for Home Stagers
Whether you're doing the work yourself or giving these tips to your home staging clients to do the tasks on their own, here are 7 things you should know:
1. You can motivate your client to live temporarily without some of their favorite things by pointing out that small "treasures" may be stolen during an open house or showing. For their protection, it's better to have these items safely stored away.
2. Tackle one area at a time so de-cluttering isn't so overwhelming.
3. You might have to go through each closet more than once to get its contents down to the absolute essentials, but it's worth the effort.
4. Try setting a timer for 20 minutes to tackle a specific area (even if it's just a single closet) and it will no longer seem like an endless task.
5. Explain to your client that any time spent now on this task will make packing and moving that much easier.
6. If your client is having a tough time parting with things, rent a storage locker to keep their beloved items while the house is on the market, and then have it delivered to the new address after the move.
7. Under no circumstances should excess items be stored in the basement, attic or garage. These areas are just as important when showcasing a home to sell.
Need more help with home staging consultations?
If you need more help knowing what to do during a home staging consultation, these 3 resources will help you:
Course 3: Taking The Mystery Out of Home Staging Consultations (includes bonus Staging Checklist)
Staging Diva Ultimate Design Guide: Home Staging Tips, Tricks and Floor Plans
Home Staging Consultation Checklist with Room-by-Room Client Planning Forms
Home stagers, please share your experiences and ideas with our community
Home stagers, what's the most difficult de-cluttering situation you've run into? How did you handle it? Please share your experiences or additional tips and ideas  in the comments below.
Debra Gould, The Staging Diva®
Internationally recognized home staging expert Debra Gould is President of Voice of Possibility Group Inc. which operates Six Elements Home Staging and the Staging Diva Home Staging Business Training Program. An entrepreneur since 1989 and author of several guides, Debra has staged millions of dollars worth of real estate and trained over 9,000 home stagers worldwide.