When you decide to go into business for yourself as a professional home stager, you have no choice but to start thinking about business expenses.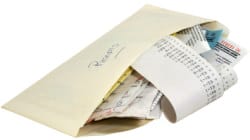 One of the advantages of operating your own business is that you get to write off many of your expenses against your income. This has tax advantages. If you don't have a bookkeeping or financial background (which I don't), it's a good idea to start building a relationship with a good accountant.
If you haven't started your home staging business yet, but you're planning to and you're in the process of taking courses, or researching the business, start keeping those receipts because they'll come in handy later.
Whether you started your business in January, last month, or today it's not too late to start thinking ahead about your next tax return. For that matter, even if you've been in business for years it's never too late to pick yourself up by the bootstraps and focus on doing something better for the next year!
The most important financial advice I can give you is to hang on to every single receipt you get your hands on that could possibly be a business expense. This will allow you to lower your reported income at the end of the year, and therefore lower the taxes you owe.
Possible business expenses for you as a home stager might be any of the following:
Home staging courses and resources you purchase from the Staging Diva Store
Subscriptions to magazines and newspapers
Décor, business or any other type of reference books
Cell phone and Internet bills
Vehicle expenses (Keep a notepad in your car to track mileage for staging projects.)
Insurance
A portion of your mortgage (if you have a home office)
A percentage of your utilities like heating and electricity
A percentage of your cable bill (you need to watch HGTV right?)
Office supplies
Postage and courier bills
Travel expenses
Staging props like vases, decorative soaps, plates and glassware
Restaurant bills
Cleaning bills
Business gifts or gift certificates
Fresh flowers (needed for staging or portfolio photography)
Computer equipment and software
Camera
Of course you have to know which of these items are legitimate business expenses for tax laws that apply to you. That's why it's important that you find an accountant who specializes in small business, and the sooner the better.
When in doubt about whether or not something is a legitimate expense, err on the side of caution and hang on to the receipt. Let your accountant determine if it can be used or not.
Home stagers, how do you like to keep track of your expenses? Please share by leaving a comment below!
Debra Gould, The Staging Diva®
President, Six Elements Home Staging
Debra Gould knows how to make money as a home stager and she developed the Staging Diva Training Program to teach others how to earn a living doing something they love.