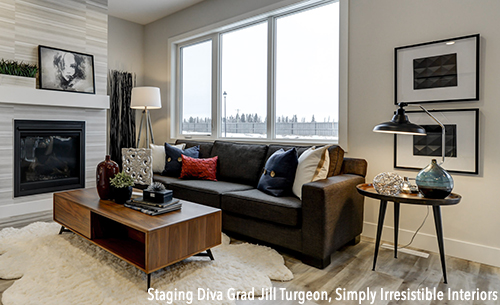 One of the things we discuss in Course 4 of the  Staging Diva Home Staging Business Training Program is the importance of media attention and how to get it.
It's so helpful in boosting your credibility as a home stager, as Staging Diva Graduate Jill Gargus-Turgeon of Edmonton-based Simply Irresistible Interiors Inc recently found.
She was featured recently on CTV news for her vacant home staging services.
This TV coverage expanded her potential target market's understanding of home staging and how it goes beyond de-cluttering and adding a few decorative accessories.
In showcasing her projects, Jill showed television viewers the clear impact quality home staging has on a vacant home. It was hard to ignore the power home staging has on the first impression that potential buyers have when they see a property online, or in person.
Jill's track record proves that home staging works.
She staged 64 vacant homes in 2013 with an average of only 9 days on market (DOM). Her business has increased 1340% over the past 10 years.
She says that she loves what she does and over that time she "really learned that creative staging talent is not enough." Much of her home staging business comes from referrals from satisfied clients and Realtors.
Jill doesn't stage occupied properties, choosing instead to build up her own inventory of home staging furniture and accessories and focusing on vacant homes.
She reports that her yearly income is "outrageous," but so are her costs.
She has never taken on any debt, but there are considerable costs associated with investing in your own inventory, warehousing, staff, etc. She treats her business as a "real company and expects it to profit and grow."
I was surprised to learn that Jill taught home staging courses for another company before taking the  Staging Diva Home Staging Business Training Program. She writes:
"The Staging Diva Training Program transformed my way of thinking about the business of home staging. I was formerly trained by two other 3-day staging programs. In fact, I was even a teacher for one of them! However, the staging pricing model was incorrect in those other programs. It kept me stuck, trudging up a difficult hill wondering why I wasn't making real money as a home stager. It wasn't until Debra Gould explained home staging consulting and billing correctly, that I was able to shift into better home staging income levels."
I'm always curious about the media coverage home stagers receive and how some  stagers focus on staging vacant properties while others prefer occupied listings. What do you like to do?
Have you appeared in the media? Please share in the comments below and if you'd like me to write a feature story on your home staging business, don't forget to fill out the easy submission form here.