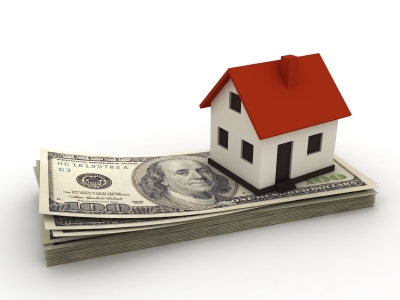 What goes up can come down. So it's important to recession proof your real estate career.
If you're among the thousands of people who got a real estate license when the market was hot, only to watch it crash in the last recession, perhaps you've realized it's  not as easy to make money as you thought?
According to a Real Estate Trends Report, there is one licensed Realtor® for every 90 Americans. There couldn't possibly be enough work for all of you.
With such a saturated market of Realtors, it's hardly surprising that most aren't making much money.
The median real estate agent salary was $33,750 in 2016, according to the National Association of Realtors. This may seem a bit low, but factors like the number of hours worked or years of experience can significantly impact income. For example, the 2017 NAR report showed that 56% of Realtors with two years or less experience made less than $10,000.
Instead of heading to McDonalds® for an application, (a manager at a fast food restaurant earns $30,000 to $35,000/year and doesn't have to work 24/7) if you're not making your fortune as a real estate agent, consider a career in home staging.
Home stagers can grow their businesses regardless of whether the real estate market is hot or not,  because people always want to make more on the sale of their property. And in a buyer's market, they need our help even more, if they want to sell quickly.
Read more about this in the home staging FAQ for aspiring home stagers.
The growing FSBO (for sale by owner) market is open to home stagers. The same sellers who don't want to pay real estate commissions and try and sell their homes privately, will invest in home staging to decorate their home to sell faster and for more money.
As a Realtor, you already know the real estate market and you're probably used to giving home owners tips on getting their homes ready to sell. Please don't make the fatal mistake of staging your vendors' homes for free as an added service.
How Much Home Stagers Make
Unless you're a top Realtor, you can make more money giving staging advice than you do right now in real estate commissions!
In my second year as a home stager, I was making up to $10,000 a month staging my clients' homes and that was starting from the ground up without a real estate license.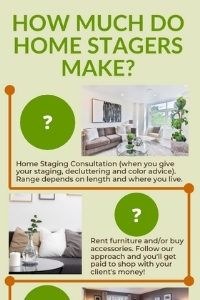 It's interesting to note too, that the majority of these home sellers hadn't chosen their agent yet when they hired me. After decorating their homes to sell fast, I would have had many of those listings myself rather than recommending them to real estate agents.
If you're a Realtor accustomed to driving around all day showing properties and not getting paid until you actually sell something, the income you can make as a home stager may surprise you. For example, $300 to $600 is close to industry standard for a home staging consultation, depending on where you live.
Assuming the low end, at $300, if you were to do four of those a week, that's over $60,000 at the end of the year.
At the high end you could be making $124,800 a year and that's just doing home staging consultations where you walk around the client's home and give them staging advice so they can do the rest of the work themselves.
Now, let's assume only a quarter of those consultations turn into full blown staging projects. You'll earn another $4,000 to $8,000 per month, or between $48,000 and $96,000 a year on top of the consultation fees you were already making!
And you don't have to share any of that income with a broker.
Get More Info on What Home Stagers Make
If you're making less than the average fast food restaurant manager, watching your income get eaten up by fees and large advertising budgets— and you're tired of being on call 24/7— isn't it about time you looked at other options?
As a home stager, you can leverage your current real estate knowledge while making double or triple what you're earning now.
Consider the current economy and the up and down real estate market your wake up call. You can recession-proof your real estate career by enrolling in a home staging training program and start earning the kind of money that lured you into real estate in the first place!
By the way, it doesn't have to be a "all or nothing" decision. Read more about home stagers who have real estate license here.