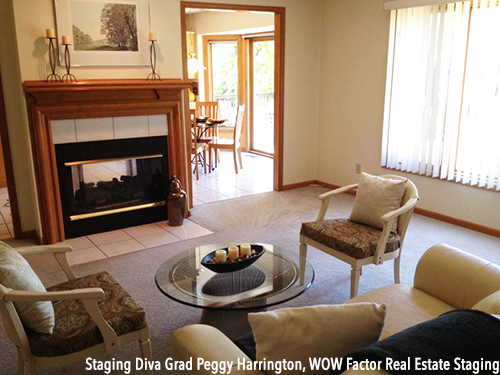 For frustrated home sellers, home staging can mean the difference between getting on with your life or feeling like you're in an expensive endurance test with no end in sight.
That's why home stagers are frustrated hearing real estate agents insist all that matters in a real estate sale are price and location.
An overheard phone conversation between an angry home seller and her Michigan real estate agent led to a speedy sale after a 5-year wait. More on that in a moment!
Feedback from real estate open houses and showings identified 3 problems that the Realtor insisted were the reasons the vacant home hadn't attracted a single offer:
Property priced too high for local real estate market.
House needs too much work for buyers to be interested.
Problems with the floor plan are turning off buyers.
Many frustrated sellers have heard similar explanations from their real estate agents. While these are sometimes justified, they are often symptoms of the major problem which is that the house isn't decorated to sell!
Home staging can make all the difference
Home staging helps prospective buyers fall in love with a property. It takes the focus off  "problems" like an awkward floor plan or the price. This is especially true of vacant homes, which is why I've written so much about why selling an empty home leaves money on the table.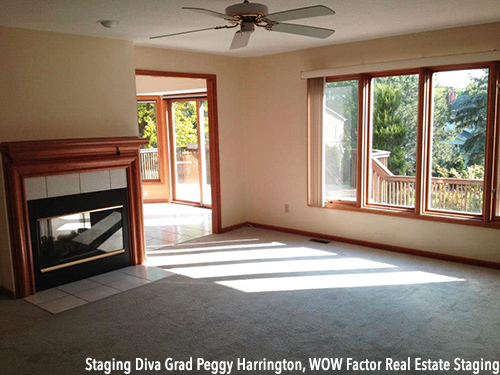 When Michigan Staging Diva student Peggy Harrington of WOW! Factor Real Estate Staging & Interior Redesign overheard a home seller complaining to her agent about the 5 year wait to sell her home, Peggy decided to put her fears aside and seize an opportunity to promote her home staging services.
After apologizing for overhearing the cell phone conversation which took place in an almost empty retail store, Peggy began to share her knowledge of how home staging can make all the difference for a speedy real estate sale.
The woman was in a hurry but took one of Peggy's home staging business cards and called her back later that evening. This lead to a home staging project to furnish the vacant home following the process I teach in Course 3 "Taking the Mystery Out of Home Staging Consultations."
As you can see from Peggy's before and after photos, there was nothing to catch the eye of home buyers, or give them a sense of how large the space was, until Peggy added home staging furniture and accessories.
Proof home staging works
Proof that home staging works lies in the results Peggy achieved for her client. Despite the property going on the market over Father's Day, it attracted two offers the first day.
Remember this is a home that sat on the market for 5 full years before staging, costing the homeowner many thousands of dollars each year — not to mention the ongoing frustration and inconvenience of not selling.
Peggy writes about the training she received from me:
"Debra is very encouraging, and the Staging Diva Training Program provides above and beyond what any other staging training has to offer. I am convinced that she genuinely cares about the success of each and every one of her students! Unlike other training (wasted $$) Debra's is not a 'production line' course. In addition, she offers business savvy and marketing in her training that was NOT available with other people's training courses and it has been quite valuable to me."
Thank you Peggy for your feedback and sharing this fabulous project with us. It's always inspiring to read proof that home staging works and to see examples we can share with our own home staging clients.
Please feel free to use the sharing buttons at the bottom of this post to help real estate agents, prospective clients and your fellow home stagers. Also realize the power of home staging stories over statistics in selling your services.
Would you like to see your business or home staging project featured in one of my articles? Give me your information here using our easy-peasy submission form!