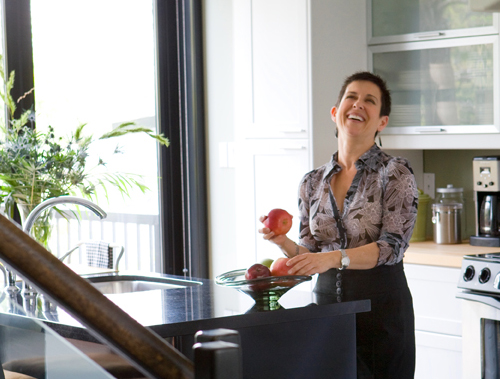 Being your own boss isn't always a picnic—  whether you're a home stager or any other type of entrepreneur.
I'd never trade working for myself to go back to any of the unhealthy situations I had working for others.
The uncaring and sometimes abusive employers. Working overtime and not getting paid for it. Having to ask permission to take time off. Not being able to work on creative projects that excited me.
No thanks!
In 2002, I decided to become a home stager. It was a super hot real estate market where most people said, "Everything sells no matter what it looks like. All you need to do is put a For Sale sign out!"
There are plenty of reasons why home staging works in both hot and cold real estate markets. That's one of the many benefits of this career. It works in any market and any economy!
13 Reasons I Became a Home Stager:
Loved decorating from the time I was a kid and always wondered if I should have gone to interior design school (instead of business school).
Excited by the buzz of real estate, yet I didn't want to be a real estate agent, on-call 24/7.
Needed to have control over my time because I was a single mom with a 7-year old.
Discovered from buying houses in 4 different cities that most people are clueless about how to show their homes to sell for top dollar.
Experienced real estate buyers bidding against each other, and over-paying for properties they've fallen in love with.
Earned solid money flipping homes after making cosmetic changes proved I had staging talent.
Noticed that even in a hot real estate market, not everything sells as fast or for as much money as it should.
Realized the real estate market would eventually slow down and people would need even more help decorating their homes to sell.
Needed a low-cost business to start because I couldn't take on any financial risk.
Believed that home staging was a marriage of two "sexy" topics that people were interested in, "decorating," and "making money in real estate." That's even more true today and makes it easier to have clients coming to you for help. In other words, you don't have to chase jobs!
Craved creative projects and wanted to show my daughter you can make a living following your dreams.
Needed to earn a lot of money because I was the solo provider for my family, with a mortgage to cover.
Knew my staging talent would help home sellers and real estate agents make money. Which meant it made sense for them to invest in my services. That's way easier than offering a service people don't need.
Figuring Out The Right Way to Do It Was a Process
My first year as a home stager was especially tough. I wanted to give up many times, especially when I wasn't getting enough projects.
I hadn't figured out the right pricing and marketing strategies to grow as fast as I needed to.
It's a good thing I didn't give up!
Once I figured out my formula (the one I teach in the Staging Diva Program), I was making up to $10,000 a month staging homes.
With the right marketing approach, I was quickly featured on HGTV, CNN, The Wall Street Journal and many decorating magazines.
This was something I never would have predicted.
Years ago when Steve Jobs died, his sister delivered a poignant eulogy. One line that especially jumped out at me was this:
"We all die in the middle of our stories."
What story are you in the middle of? Is it the right one? Do you feel that you're living some else's story/life or your own?
What should you change right now, since you don't know how long you have to finish this story or start the next?
Please share your thoughts below. I know it's hard to always find our courage. I battle with many fears myself.
We need to keep each other motivated to do our best work and live our best life.
Wondering How You Can Become a Home Stager?
Staging Diva students don't have to waste time and energy figuring everything out the hard way like I did. I put together everything I wish I knew from day one of my home staging career.