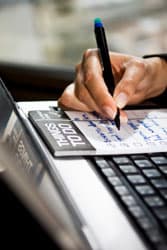 Running your own business is not all tea and roses. It takes work whether you're a home stager or any other type of entrepreneur.
It doesn't help that the economy has been in such horrible shape over the past few years. But, we're all living in this economy no matter how we choose to earn a living.
It's important to remind yourself why you became a home stager in the first place and consider what else you could be doing to earn money instead.
Would that other thing bring you more personal satisfaction, meet your various needs AND make you more money?
Would you be happier doing something else or running a home staging business?
Here's why I decided to become a home stager in 2002 (in a hot real estate market where most people said, "Why would I need a home stager, my house can sell if I just put a sign on the lawn?"):
Knew I loved decorating because I'd been doing it as a hobby since I was a kid.
Loved the buzz of real estate, having bought and sold 7 of my own homes, but I didn't want to be a real estate agent on-call 24/7).
Knew from buying houses in 4 different cities that most people don't have a clue about how to show their homes well.
Knew from experience that people will bid against each other to buy a home they've fallen in love with.
Made solid money flipping homes because of the cosmetic changes I made to them. This proved to me that I had staging talent.
Knew that even in a hot real estate market lots of houses don't sell as fast as they should or for as much money as they could.
Knew the real estate market would eventually slow down and people would need even more help decorating their homes to sell.
Realized that home staging was a marriage of two "sexy" topics that more and more people were talking about, "decorating," and "making money in real estate." I could see that the field would grow (at the time I started there were no TV shows on staging, but HGTV was already huge and decorating shows had hit the mainstream).
Wanted to earn money from my creative talents and needed to make a lot of it because I was the sold provider for my family.
Didn't want to work for anyone else (when I was an employee I had to put up with sexual harassment, and bosses with anger management and addiction issues)
Needed to have control over my time because I was a single parent of a 7-year old.
Knew that having a staging talent that could help home sellers and real estate agents make money would be something I could make money from and get paid very well for.
Needed a low-cost business to start because I was in debt when I started.
The first year was especially tough and as my Staging Diva Students know, I wanted to give up many times. Mostly because I wasn't making enough money. I hadn't figured out the right pricing and marketing strategies to grow as fast as I needed to. I'm glad I didn't give up because once I figured out my formula, I was making up to $10,000 a month staging homes. I had also been featured on HGTV, CNN, The Wall Street Journal and many decorating magazines.
This was something I never would have predicted and if I'd know that was around the corner, I wouldn't have felt so much like giving up!
This week I read the eulogy that Steve Jobs sister delivered. I have been a huge fan of Apple since I bought my first computer in 1989 to start my first solo business. I know that I could not have had all the success I've had over these years as an entrepreneur without my various Macintosh computers. When Steve Jobs died I was sad for many reasons and I also couldn't help but think of what amazing gifts he would have brought to the world had he not died at such a young age (only 4 years older than I am now).
One of the lines I found very poignant from his sister's eulogy was that "we all die in the middle of our stories."
What story are you in the middle of? Is it the right one? Do you feel that you're living some else's story/life or your own? What should you change right now, since you don't know how long you have to finish this story or start the next?
Please share your thoughts below. I know it's hard to stay motivated when you feel like you're struggling. I know it's hard to always find our courage. I battle with these demons myself. We need to keep each other motivated to do our best work and live our best life.

Debra Gould, The Staging Diva®
President, Six Elements Inc. Home Staging
Internationally recognized home staging expert Debra Gould is President of Six Elements Inc. and creator of the Staging Diva Home Staging Business Training Program. An entrepreneur for almost 25 years and author of several guides, Debra has staged millions of dollars worth of real estate and uses her expertise to train others worldwide.