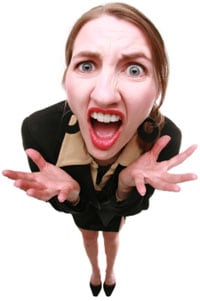 Home staging can feel like a thankless task when our clients don't ooh and aah over the results as happened with one Staging Diva Graduate who wrote me to vent. I'm sharing her story (with permission) and my observations.
You will be in a similar situation at some point and I want you to be able to see the bigger picture (and the bright side) so that you won't let an ungrateful client suck the joy out of your home staging business.
Lorraine (not her real name) writes:
I can't sleep because I got feedback from a home staging client that they decided not to list their house now that we have cleaned up and beautified a house that was an absolute mess and horror show.
I worked under a very tight timeline bringing in everything from a general contractor, to landscaper and hardwood floor specialist.  Now that they've decided to stay, they are picking apart my contractors who did an incredible job given:
– The mess we had to contend with.
– The homeowner adding on to their list literally everyday.
– Very tight timeline.
The seller even said I annoyed my own general contractor because he had to receive the UPS deliveries of all of the items that we needed to make his house not only presentable but so nice that he and his wife have chosen to stay.
Interesting note:  my general contractor informed me today that he is going to recommend me as a valuable asset for an account that he has landed with a multi-billion dollar company painting the interior and exterior of 24 luxury homes that they will build, use to house their executives, and then sell based on what he has seen of my "mental and physical capabilities" on this job.
I left the conversation feeling so depleted and wondering if this guy even has a clue about how much effort and thought has gone into his house. Ugh!
My observations as a home stager and business coach, and 3 ways to see the bright side of this situation:
1. Some clients will never say "thank you" or "great job," no matter how terrific the results.
His "horror show" looks like a great house, so he's staying put! If he didn't love what Lorraine did, he wouldn't have suddenly decided against selling after all. Some people just don't know how to say thank you but that doesn't mean we have to interpret that as a complaint. Consider the thank you implied by their actions or the results they get when they sell.
I've had clients get $70,000 over their asking price and never actually say "thanks." I can get upset believing they have no appreciation for my work, or assume they must be thankful for that cash windfall even if they haven't said so.
Considering Lorraine's transformation saved the client tens of thousands of dollars in selling and moving costs, he certainly should have said "thanks," but the fact that he didn't isn't really important in the bigger scheme of things. She knows what she accomplished.
2. There is inherent satisfaction in having a home staging business, assuming that's "your thing."
When I worked with big corporations, I rarely heard anyone thank me for my efforts. It was also hard to see the tangible results of anything I did because it was always part of  huge project with lots of "moving parts" and tons of variables that were hard to measure and mostly out of my control.
As home stagers, when we walk into a house that's a "horror show" and turn it into something beautiful, there is a ton of creative satisfaction that comes from that achievement. Then there's the layer of icing on top that comes from actually making money doing this work that we love! It gets even better when the house sells in record time, or for more than anyone expected. Depending on the situation, that can actually be life-changing for our clients.
3. Even the most difficult situation generally has a gift inside of it somewhere.
Our challenge is finding the (sometimes hidden) gift and putting our energies into that instead of the negative.
Richard Carlson wrote Don't sweat the small stuff, and it's all small stuff!, because we all tend to let little things take over our lives. Lorraine was annoyed by how her client spoke to her and she let that get in the way of appreciating how this experience opened the door to a much bigger business for her.
Her contractor was so impressed with her work and how she dealt with this difficult client that he's bringing her in to help him with a multi-billion dollar corporate client, building 24 luxury homes. Potentially, she'll get to choose paint colors and finishes and stage them to sell— enough income for an entire year or more!
Perhaps if the client had been easygoing and the house not so awful, that would have been the end of it. Perhaps the contractor never would have thought of Lorraine again after this particular project.
Maybe it was this precise set of unpleasant circumstances that will take Lorraine's home staging business to a whole new level. You just never know!
The last point I want to make is that one of the advantages of a home staging business is that difficult clients aren't around very long. You're off to the next project and a new client that will treat you better!
Please share your own experiences with the gifts that come out of negative situations, I know you'll help inspire others!

Debra Gould, The Staging Diva®
President, Voice of Possibility Group Inc.
Debra Gould has been an entrepreneur since 1989 and knows how to make money as a home stager. She developed the Staging Diva Training Program to teach others how to earn a living doing something they love. There are now more than 7,000 students in over 20 countries learning from her many products and services for home stagers.