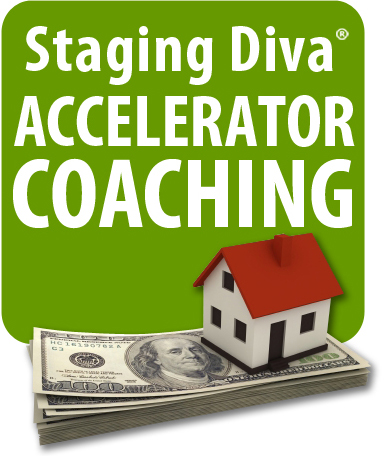 I have a personal trainer who helps me meet my fitness goals. Could I do those exercises myself?
Yes.
Would I be as likely to get my butt to the gym three days a week with nobody to hold me accountable?
Probably not.
Just as my personal trainer has helped me conquer my fitness challenges, as a business coach I help aspiring and established home stagers meet their goals and grow their businesses.
Home Staging Business Coaching Takes You to Next Level
In the past few weeks, with Staging Diva Accelerator Business Coaching, home stagers have used their one-on-one time with me to:
Beat down limiting assumptions they've been making
Identify ways to reduce income tax by over 30%
Deliver a reality check on their ideas and expectations
Review concepts for their business logos
Critique a website and identify ways to improve its ranking with search engines
Edit their Staging Diva Directory of Home Stagers copy
Identify ways to increase sales by up to 65%
Get them through an especially challenging staging project
Improve on their real estate agent presentation
Unravel an overwhelming To Do list to focus on the highest pay-off activities
Review home staging portfolios and identify the strongest photos to include
If you find that you're feeling stuck on a particular challenge or if you're ready to start using some new ideas to take your business to the next level, you could benefit from an Accelerator Business Coaching session.
You don't have to be a Staging Diva Student  in order to book a business coaching session with me.
In fact, I've helped plenty of struggling stagers who have never taken any of my courses, with very specific information geared towards their unique challenges and opportunities.
Once you order coaching time, you'll be given access to my online calendar so that you can book a convenient appointment date and time in 15, 30, 45 and 60-minute increments.
You'll provide your phone number when booking, and I'll call you at the appointed time for your business coaching session. It's that simple.
You don't need to prepare a list of specific questions so don't let that stop you.
If you give me a quick overview of your situation and what your biggest challenges are, I will be able to take it from there. It could be one of the most important investments you ever make in your home staging business.