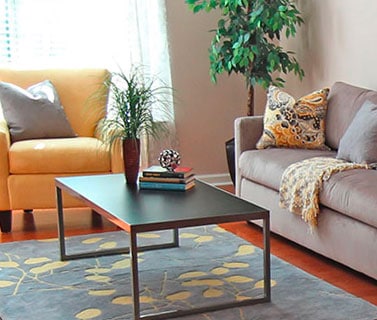 When I was doing marketing for large corporations I never got that warm and fuzzy feeling that I was making an important difference in the world.
That all changed when I discovered home staging.
It's no exaggeration to say that our home staging services can have a profound and positive impact on our clients' lives.
Perhaps that's why so many former nurses are attracted to home staging. They want to use their creativity, but they still want to help people.
This home staging success story about a recent project by Staging Diva Grad Kate Perry of Accents and Amenities LLC (PA) will show you what I mean.
Wheelchair-Bound Client Stuck with 2 Mortgages
Kate had been an RN for 21 years when her department closed and she lost her job. This provided a great opportunity for her to reinvent her career and continue to make a difference.
A young woman contacted Accents and Amenities LLC after finding Kate's home staging business online.
She was in desperate need of help with the sale of her boyfriend's condo. He had MS and his condition was worsening. They couldn't live in his old place because he was confined to a wheelchair and the space just wouldn't work.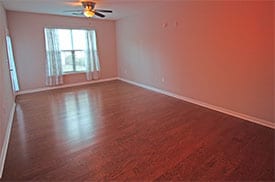 Sadly, the vacant condo had already sat on the market for 8 months.
There was little buyer interest and the feedback was that it was too small. Clearly you can't make a condo larger, it is what it is!
This negative feedback is not uncommon with a vacant property.
Potential buyers have no vision for how to use the space, or how large it is when there's no furniture in place as a reference.
(Read my article on 5 Reasons Empty Rooms are a Bad Idea When Selling Your House. )
Why many real estate agents don't recommend home staging a vacant home is a whole other conversation!
The frustrated young couple was stuck paying two mortgages (that they could ill afford) and had already taken several price reductions during the 8 months the vacant condo sat on the market.
Within a few days of hearing from the client, Kate Perry identified the appropriate target buyer and completely staged their condo. Since it was a small condo, she staged it for a 20-something couple, or single person.
To keep costs down, Kate suggested the clients supply accessories from their current home to give the condo a cohesive appearance.
Sold 2 Weeks After Staging
The clients were thrilled to be involved in the decisions and especially with the results. A great weight was lifted off their shoulders when an interested buyer (a single man) made a full price offer within 2 weeks of staging! The deal closed before the holiday season.
Kate writes, "I could not have asked for more perfect, cooperative and appreciative clients. This wasn't an extensive project but I am extremely satisfied with the results. This couple certainly wishes they would have staged 8 months ago when they first listed their property, but they're relieved that the stress and extra mortgage are behind them and they can get on with their lives."
"The Staging Diva Training Program helped get my business off to a great start," says Kate. "Debra offers so much practical and valuable information. She motivated me to put my best foot forward and get started doing something I love. Kudos to Debra for sharing her knowledge so selflessly!"
Thanks to Kate for that feedback and for providing her home staging photos and details about this project.
Share Your Home Staging Success Story!
I'd love to write an article about you and get you some free publicity for your home staging business. At the same time, by sharing your home staging success story you'll know that you're inspiring others and get positive feedback from our readers. Simply fill out the quick online form I've created to share your success story.
Debra Gould, The Staging Diva®
President, Six Elements Home Staging and Voice Of Possibility Group Inc.
Debra Gould has always believed that life is the adventure you make it. Not wanting to miss opportunities to try new things or to reach the end of her life wondering "what if?", she has been a master at personal re-invention and transformation. A home stager since 2002, she created the Staging Diva Home Staging Business Training Program in 2005 to help others make a living from their creativity. There are over 9,000 Staging Diva students in 23 countries.