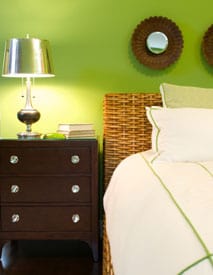 "Perfection is achieved, not when there is nothing more to add, but when there is nothing left to take away." – Antoine de Saint-Exupery
I love this quote for many reasons, but one is that it so nicely distinguishes between home staging and interior design.
Less is definitely more in home staging. We're not trying to impress the home buyer with the contents, but rather with the home itself.
On the other hand, many interior designers seem to delight in adding more and more. They layer texture and pattern and often include far more furnishings than would be optimal if one were decorating a home to sell.
To see this carried to it's extreme watch Million Dollar Decorators, where having too much money seems to mean you have to buy ever-more stuff at absolutely obscene prices, even when it's ugly or uncomfortable. But I digress.
Home staging demonstrates living well with less
Personally, the ability to live well with less is one of the reasons I love home staging. I prefer less furniture to more. Fewer accessories to showcase the beauty of the ones that remain.
During a home staging consultation, my eye goes first to what can be taken away, and it's usually a lot!
It's incredible the collections of stuff we build up over time. Often the home seller is relieved when I clear a fireplace mantle of the myriad of items that no longer look decorative, but have become clutter hiding the beauty of their favorite items.
During an interior redesign consultation, my client greeted me at the front door with, "People in my family keep dying and my house is filled with their stuff. Help me figure out what to get rid of!" It was really like she needed my permission to purge some of the furniture. My permission to free her from the burden of saving it all as if that would keep the family members alive.
Together we looked at each piece of furniture, determined to keep only what she absolutely loved. The end result might not have been "perfection," but it was a heck of a lot better than where we started!
Sometimes home stagers end up like the "shoemaker's children." Our clients' homes look great but our own homes look like they need some staging!
Your staging mission should you choose to accept it . . .
Here's a challenge for you that's perfect for this time of year as the weather changes and we start to think of all the guests that may come to visit for the holidays. Pick a single room in your home, perhaps the one that bugs you the most. You know that one that makes you feel constricted as soon as you walk into it!
See what you can remove to make it that much better and then come back and share your results with us! What's shifted for you, now that you've shifted the contents of a room?
Debra Gould, The Staging Diva®
Debra Gould has and MBA in Marketing and has been a serial entrepreneur since 1989. She is president of Voice of Possibility Group Inc. with a mission of helping entrepreneurs create their ideal businesses and lifestyles. An internationally recognized home staging expert, Debra created the Staging Diva Home Staging Business Training Program with 7,000 students in the U.S., Canada and 20 other countries. She is the author of 5 guides, including the best-selling Staging Diva Ultimate Design Guide: Home Staging Tips, Tricks and Floor Plans.