Kitchens are one of the most important rooms when determining the selling price of a home. That's because they're the most expensive and time-consuming to renovate.
Put a home on the real estate market with an ugly kitchen like the one seen here, and you can expect lower offers and that it will take much longer to sell. How far you go with kitchen home staging will depend on 4 factors:
1. Budget available. Remember staging is an investment in getting maximum return from the real estate sale.
2. Price point of the home. It's always a good idea to look at the competition in the area in that price range.
3. Time available for home staging. Many kitchen home staging projects can be completed in a few days.
4.  How fast the home needs to sell. The longer a home sits on the market, the more it costs the home sellers in carrying the property Plus, eventually they'll have to lower the price to get buyer's attention. Price reductions generally cost more than staging.
In the kitchen, home staging is key for the successful sale of a home. You don't want potential buyers thinking, "We'll have to rip out this kitchen. That's so expensive and a huge inconvenience that will take months to finish!"
Kitchen Home Staging Boosts Selling Price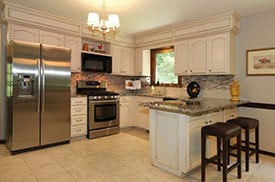 Many potential buyers won't even put in an offer to purchase if they think they have to undergo an expensive and time-consuming renovation. Other potential buyers will take this as an opportunity to "low-ball" their offer— knocking at least $50,000 to $70,000 off what they're prepared to offer on an average home.
My favorite kitchen home staging project this month comes from Staging Diva Graduate Jodi Whalen of Pear Tree Home Designs, LLC. Compared to a price reduction of $50,000 or $70,000, look what she achieved in this kitchen by:
Painting the ugly cabinets — much cheaper and faster than replacing them.
Adding decorative trim to hide the bulk head — providing an upscale, custom finish.
Replacing the counter top, appliances and backsplash — maximum wow factor but not that costly in a small kitchen.
Adding decorative items to finish the upscale look.
This is now a wonderful kitchen that will be in style for many years ahead.
The proof home staging works is in the results. Here's what Jodi reports about this home staging project:
"Pear Tree Home Designs recently staged a large 4-bedroom tudor style home from top to bottom, the homeowners had not touched a thing since the day they moved in. The home needed fresh paint throughout the house, an updated kitchen and each room needed a breath of fresh air."

"I hired paint contractors, handyman contractors, a cleaning crew and the home owner did a lot of purging, in the end the home had an entirely different feel. It was on the market for 3.5 weeks and sold for 95% of it's asking price. Competitive homes in the area were sitting for a minimum of 6-9 months!"

"I am thrilled to be a Staging Diva Graduate and I love that I can help people sell the most expensive asset they own so they can move onto the next phase in their life."
A big congratulations to Jodi Whalen on this fabulous kitchen transformation and everything else she did for her home staging client! I thank her for sharing these before and after photos, giving us many home staging ideas for what's possible in a kitchen.
Please add your comments below and feel free to share this story to show your own home staging clients what is possible with your help! Plus, if you'd like to see your latest project or home staging business featured in an upcoming article, please share your staging story here.
Internationally recognized home staging expert Debra Gould is President of Six Elements Home Staging and creator of the Staging Diva Home Staging Business Training Program. Debra is the author of the best-selling Staging Diva Ultimate Design Guide and has staged millions of dollars worth of real estate in 4 cities.