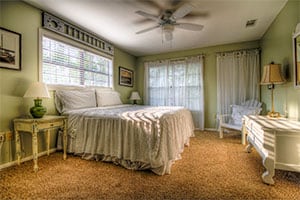 At a recent Ask Staging Diva Live event, I was asked whether or not I bring an assistant with me to home staging consultations. I realized this might be something other aspiring home stagers are worried about, so I thought I'd discuss that question here.
When I arrive at an initial home staging consultation, I'm not actually doing the staging at that point.
As we walk through the house, I'm mostly taking everything in and making suggestions for improvements. For example, I might suggest that a large wall unit would look better on a different wall, or that the current living room furniture would work better in the family room.
But at this initial consultation session, it's not going to be moved.  These recommendations will go on a to-do list for later.
I frequently move small items during home staging consultations. I might say something like, "You know, your fireplace could be a fabulous focal point in this room, but I feel like it's a bit lost under all this stuff on the mantle. Would you mind if I showed you how this can look a lot better?" Then the client will say, "Of course, go ahead." Then I jump in and start changing things around.
It's actually doing small things like this that make your clients will light up because they can start to see a transformation and they're excited about what you can do with the rest of their house.
I rarely bring an assistant with me to an initial home staging consultation.
I generally only get help when I'm doing a vacant house that's being staged from top to bottom in a single day. In that case it's helpful to have someone to assist with hanging artwork, placing towels, hanging curtains, ironing bedding – that type of thing.
Most of the time, I work on my own with my home staging clients. This means I get to keep more of the home staging profits and I'm better able to stay focused on the task at hand.
Course 3 of the Staging Diva Home Staging Business Training Program answers all your questions about what happens
during a home staging consultation.
It comes with a bonus home staging check list and covers topics such as:
Avoiding the "free estimate trap"
What to wear and what to bring to your consultations
How to turn a potential buyer into a paying client
Who moves what and when (and other home staging mysteries)
How to build your client relationships
How to get paid on the spot
Much, much more.
Home stagers, please feel free to share how you handle your home staging consultations by posting a comment below.
Debra Gould, The Staging Diva®
Debra Gould knows how to make money as a home stager and she developed the Staging Diva Home Staging Training Program to teach others how to earn a living doing something they love.